I received this graphic novel from the wonderful people over at Jessica Kingsley Publishing and Singing Dragon via Netgalley. At first I was not sure how to write up a review about this particular read and it took me a while to wrap my head around it, but I think I'll just going to dive straight in. This is a graphic novel with a powerful message. Here is my review for What Does Consent Really Mean?
A powerful message
What Does Consent Really Mean begins with a group of friends at school. They discover that a girl who attends their school was raped. This strikes up a conversation about the topic of consent and what it means.
As the graphic novel continues, more strong topics are discussed. They talk about porn and how people can believe what they see is real. Media is also another vocal point within the group, talking about how media can make a teenager think and possibly worry about their body image. It is a constant struggle.
From the beginning of What Does Consent Really Mean, the discussion about consent comes from a girls perspective. Because of this, conversations also take place about boyfriends and what feels right and wrong. About how you may want to just agree to do something even though it is not what you want. Of course, this goes both ways and not just from a girls point of view.
Later into the graphic novel, the group are joined by their boyfriends / boy friends and strike up the question to them – What do you think consent means? From the boys perspective, as well as talking about what they think consent is, they talk about how they feel pressured to perform a certain way. This may involve exaggerating what they really do with their significant others only to make themselves look "cool" to others.
By the end of What Does Consent Really Mean, everyone has a better understanding of what consent really is, and that both parties need to be in agreement to do anything, even if it is not sex.
The Artwork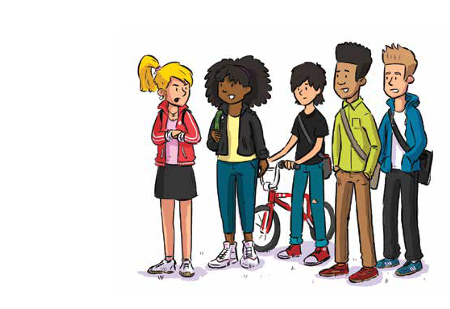 On another note, the artwork of What Does Consent Really Mean is adorable and stylized. What I absolutely adore about it is the diversity it shows. Teenagers of all different races, body types and genders. This really does allow the reader to connect with the read. The writing style in the graphic novel was also simple to follow along with and easy to read. The colors were also vibrant and pleasing to the eyes!
Important read for all young teenagers
I personally feel that What Does Consent Really mean hits the mark with the main theme. At the end, it also includes resources and questions which would be incredibly useful for schools. These question revolve around the themes and topics talked about throughout the graphic novel – Consent, porn, sexting, media and more.
This graphic novel should be widely available for any teenager who wants to found out more about consent and what it means. I would highly suggest that when picking up What Does Consent Really Mean for learning purposes, that the resources are looked at. There are videos and links that give very helpful information and honestly expands what the graphic novel talks about.
Overall, What Does Consent Really Mean is an adorable graphic novel while at the same time a very good informative read. A useful tool for teenagers to read and start learning about what consent is.
"Consent is NOT the absence of NO, it is an enthusiastic YES!"
Flails out of 5
What does Consent Really Mean gets 5 out of 5 flails. It is diverse and covers a very important topic to a high standard.