So this has been a blog I meant to write back in April. However, I completely got side tracked and it was moved to the back burner. BUT NOW IS THE DAY! On the 29th of April, my partner and me went for a day visit to Groningen. We went there for two reasons. The first was to go and visit a shop and two. The second and main reason was to visit a dear friend of mine from Twitch, Nezerith! He messaged me to say that he had a 4 day weekend, so would be available to travel up to see us. I was super excited!
Now the question of where to meet. Since I have not been there in a while, I decided that the best place for us to go for food would be Wereldburgers. I mentioned this place in my Day in Groningen blog, however I did not have any pictures nor fresh thoughts. Now I can properly talk about it!
First experience with Wereldburgers
Before I talk about the day our with my friend and my partner, I first want to talk about my first experience with Wereldburgers.
This wonderful little burger place can be found in Groningen. My partner and myself first discovered this place after searching for different food locations for a day trip. Upon visiting the Wereldburgers website, it looked like it would be up our street. The decision was made that once we went around the shops etc, we would stop by there for our lunch. I was slightly worried that there would be no seats available. It was a Saturday, the busiest day of the week for the student city. Saturdays also play host to a local market which is choke-a-block! We spend a good amount of time going around the shops, looking into game shops and enjoying the sights of the city (or at least I was!). By the time 2 o'clock hit, it was time to journey over to Wereldburgers.
To my surprise, the place was completely empty. I didn't know what to think about that, however I did not let that worry me. The excitement for burgers was high. I also noticed that Wereldburgers was a relatively small restaurant. Maybe we found a hidden gem? Well we were about to find out.
Good menu selection!
The menu had a good selection of burgers, chicken burgers and sides. Sadly for me, I knew that I would never be able to finish a full burger (yay for small stomach) but I did not let that stop my decision. Once I saw that they sold lamb burgers, my decision was clear. I decided to go for "The Maghreb". This burger would include lettuce, cooked onion, grilled peppers, cucumber yogurt dressing with cumin and fresh mint. I decided to not include harrisa paste though, not a fan of that!
My partner got the Godfather burger. This was a delicious beef burger together with Rucola, red onion, parm cheese, prosciutto ham, tomato and the 'Godfather' sauce made from biological tomatoes and italian spices.
You'll have to take my world for it that these burgers looked and tasted absolutely incredible! Needless to say, I was incredibly impressed with the service and the quality of food here. Once we finished and left, I was looking forward to the day we would come back.
The second round of burgers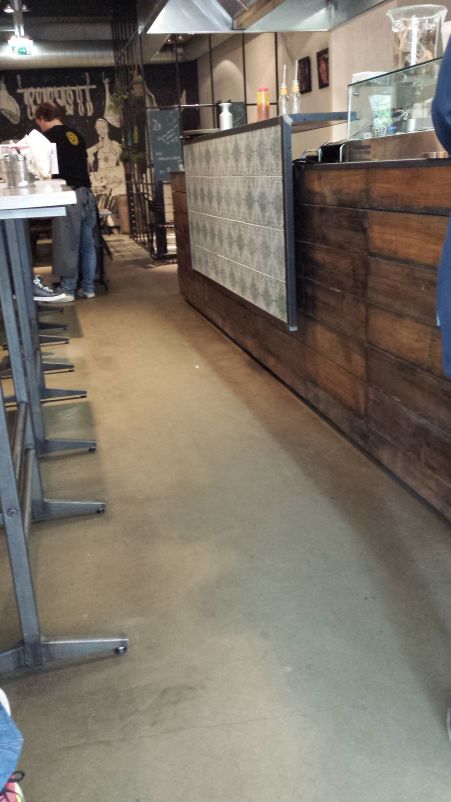 Having a place to go for food is always a good thing. So when we knew we would be back in Groningen with company, Wereldburgers was the first choice for food. Of course it would be, IT WAS BLOODY DELICIOUS! Once my friend arrived and we met up in the grote markt (the big market), we started to make our way over to Wereldburgers.
Since our last visit, Wereldburgers won a "2nd best burger in Holland" award, which I am super proud of them for! I think maybe that award helped to put them on the map a bit, since when we arrived there were a lot of people there. A table was still free for us (thankfully) so we took our seats and started to chit-chat and decide what we were going to order.
I wanted to try something a bit different this time. As much as I love lamb, I was in the mood for a big juicy beef burger. My friend and my partner both went for the Dutch beefburger. My partner also made his the "complete" version, which included a side of wedges and coleslaw.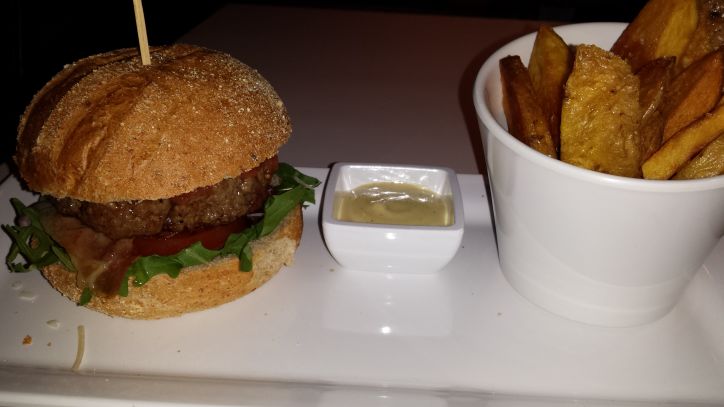 The Dutch beefburger contained a freshly cooked beef burger with salad, pickle, tomato, bacon, cheese and mayonnaise. It looked simply delicious.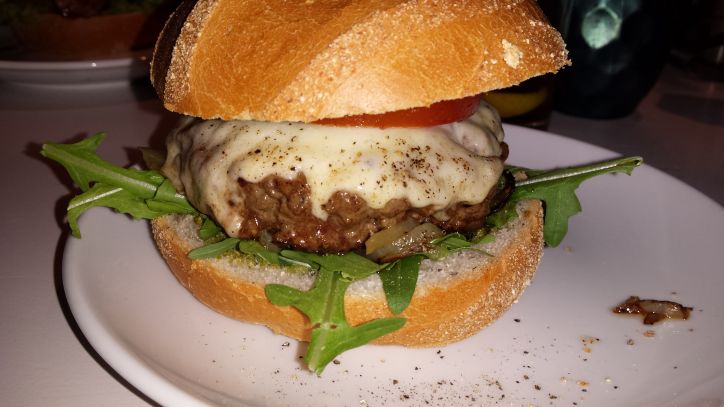 I opted for the Genova beef burger. This contained a freshly cooked beef burger, rucola, cooked onion, tomato, homemade green pesto, pine nuts and mozzarella.  I cannot stress how delicious this burger was. Perfectly cooked to medium, it was juicy and melt in the mouth and HNNNG. So good.
Would I recommend Wereldburgers?
If you ever go to visit Groningen for a day, you need to do yourself a favor and go and visit Wereldburgers. A trip to come here alone is worth it! The prices are amazing for the quality you receive and the service is fantastic. And do not worry if you don't speak a word of English, because everyone  here can speak it!
Have you ever visited Wereldburgers? If so, what did you eat? Would you go back? If you have never visited before, do you think you will now? Let me know!
I will leave you all with this lovely picture of me and my friend at the end of the day! It was super amazing to finally meet him and I look forward to more visits in the future!