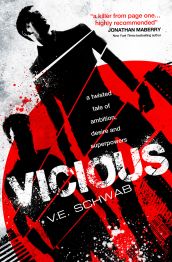 Vicious
Fantasy, Science Fiction, Adult, Fiction
Titan Books
January 10th 2014
Paperback
340
A masterful tale of ambition, jealousy, desire, and superpowers. Victor and Eli started out as college roommates—brilliant, arrogant, lonely boys who recognized the same sharpness and ambition in each other. In their senior year, a shared research interest in adrenaline, near-death experiences, and seemingly supernatural events reveals an intriguing possibility: that under the right conditions, someone could develop extraordinary abilities. But when their thesis moves from the academic to the experimental, things go horribly wrong. Ten years later, Victor breaks out of prison, determined to catch up to his old friend (now foe), aided by a young girl whose reserved nature obscures a stunning ability. Meanwhile, Eli is on a mission to eradicate every other super-powered person that he can find—aside from his sidekick, an enigmatic woman with an unbreakable will. Armed with terrible power on both sides, driven by the memory of betrayal and loss, the archnemeses have set a course for revenge—but who will be left alive at the end? In Vicious, V. E. Schwab brings to life a gritty comic-book-style world in vivid prose: a world where gaining superpowers doesn't automatically lead to heroism, and a time when allegiances are called into question.
"Plenty of humans were monstrous, and plenty of monsters knew how to play at being human."
This Vicious review has honestly been a long time coming. I never managed to write one last year when I originally read this book. But boy I need to share my thoughts on this outstanding book by my favorite author, V.E Schwab.
I am still not over the fact that this book exists. It is so undeniably good that I already want to reread it. Everything about Victoria's writing is brilliant. I didn't doubt for a second that this book would be fantastic. It is everything. Gritty anti-hero plot with betrayal, revenge, and superpowers.
"There are no good men in this game."
The stories main plot is all about betrayal and jealousy. Vicious follows two college students, Victor Vale and Eli Cardale who wanted to try their hand in obtaining superpowers, called EOs (or Extra-Ordinary). In order to do so, they would have to have near-death experiences. However, misunderstanding and betrayal soon find Victor put behind bars in prison. Vicious looks at the bond between Victor and Eli during their college years, and 10 years later. In the present, Victor has broken out of prison with his cellmate, Mitch. Victor only has one thing on his mind – Revenge. Kill Eli Ever, the so-called Hero who thinks it's his calling to destroy all EOs. Along the way, Victor and Mitch pick up a girl, Sydney, who is an EO just like Victor. Revenge and morally grey, who will come out on top?
"If Eli really was a hero, and Victor meant to stop him, did that make him a villain?"
Victor Vale is the best anti-hero. Period. He is so black-and-white and it makes him so likable as the villain. Victor is also incredibly loyal to the ones he calls friends. He looks out for them and makes sure they are fine before he looks after himself. You could feel his every emotion throughout the story, past and present, and I love him. I love Victor Vale with my every being and I can't WAIT to see what happens next!
"I want to believe that there's more. That we could be more. Hell, we could be heroes."
Eli Ever, before known as Eli Cardale, thinks he's doing the right thing. But he is just an asshole. He thinks that destroying all EOs he's making the world a better place. He is so driven in thinking he is the hero everyone needs when in reality he's not.  Being able to see inside Eli's mind and finding out what he thinks was truly a wonder. The fact that he would even consider killing children is shocking. Victor may be the "villain" but Eli is a bastard.
"There were some people you had to stay
away from, people who poisoned everything in reach. Then there were people you
wanted to stick with, the ones with silver tongues and golden touches. And then,
there were people you stood beside because it meant you weren't in their way"
I loved Mitch and how loyal he is to Victor and Sydney. He would put his life on the line to make sure the pair of them survived. Mitch is the best side-kick any anti-hero character could have. I felt for him strongly with how unlikely he is. Always being in the wrong place at the wrong time and getting the blame just because of how he looked. At least he took control of it and went "screw it" and went balls to the wall.
"Safe had become Victor."
Sydney is an adorable little butterfly and I want to feed her all the chocolate milk. I love how she looks up to Victor as more of a dad character because she feels safe around him. I also love how even though she is young, she was never innocent in the choices she made.
"Serena hated to admit how easy and addictive it was, getting her way, even when it made her miserable."
Serena is the seriously one of the most fantastic female villains ever in a book. She is a character who should not be messed with and I loved her so much.
Overall, Victoria never ceases to amaze me with her books. Vicious is a whirlwind of morally grey characters and super dark choices. It is a brutal, addictive story with twists and turns that will make you want MORE. It's bloody fantastic. PICK UP THIS BOOK AND READ IT!