It has taken me such a long time to wrap my head around this incredible book. I was incredibly lucky to purchase it from this years Edinburgh Book Festival while on holiday. The cover alone sold me on it. However, the concept of the story enticed me. It was everything I wanted and more! Here is my review for The Loneliest Girl in the Universe!
The Loneliest Girl in the Universe by Lauren James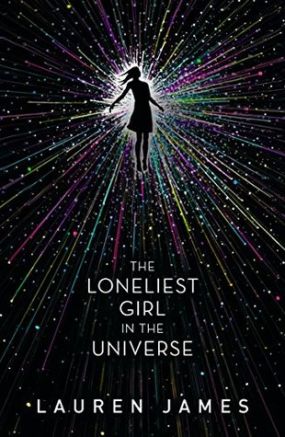 Pages: 290 (Paperback)
Published: September 7th 2017 – Walker Books
Genre: Young Adult, Science Fiction, Space.
What would you do if you were the only living member of a space-crew heading to a new planet? To find a second home for the people of earth? That is Romy Silvers life. Born and raised on The Infinity, her task is to reach this new planet – Earth II – and establish a colony to keep the human race thriving. She is the loneliest girl in the universe. Her only communications come from Earth, but these messages take forever to send and receive. Regards, Romy lives for these messages.
One day, she receives news – another ship has been sent out to join her mission, a ship called The Eternity. Together, they will successfully reach the new planet quicker than the original calculations predicted. Is this news for real? Will Romy no longer be alone? She can hardly believe this news, it is like a dream come true. She will finally be with somebody and not alone!
First contact
The Eternity eventually sends an email to The Infinity, and Romy finds out who is flying towards her at the speed of light. A boy only named J. Even though she knows e-mails talk months to send to and from the ships, she enjoys the new communications with J. In fact, Romy loves them so much that she starts falling in love with this person. Is it possible to even fall in love just through e-mail?
But after receiving some messages from Earth that scare and confuse Romy, can she really trust J? She doesn't even truly know who he is. Will Romy manage to work out what these Earth messages mean? Will she manage to suppress the nightmares that consume her?
Maybe she should have been left alone. Sometimes being alone can be more useful….
Oh. My. God.
From page 1, I fell in love with this book. What a beautiful, heartbreaking and crazy ride it took me on. This was my first book I've read from Lauren James. It has made me want to read her other books so badly now! The writing style was absolutely captivating. I was glued to this book completely!!
What I loved the most about The Loneliest Girl was the build-up. With every chapter, my heart just kept pumping harder and my head was ringing, shouting at me to KEEP READING! I need to find out what these messages from Earth really were. Incredibly cryptic and down right weird. I also really wanted to learn more about J and to find out what was going on between him and Romy.
Romy is such a brave soul
Speaking of Romy, what a little warrior she is. How she manages to live alone in space completely mind-boggles me! Sure, she is a girl who gets incredibly anxious, but wouldn't you feel like that too if you were left alone in space? I love that Romy is brave when she needs to work out what is going on. She is also so courageous when the time comes.
For a 16-year-old girl, she is incredibly resourceful and smart. But then, going up on a spaceship will do that, wouldn't it? It makes me so sad that she will never know what life is like on Earth. She can only dream about what is would be like. If I could, I would hug Romy so hard!!
An incredible space thriller
I have a soft spot for brilliantly written space stories. There is something incredible about reading about places outside of Earth. The Loneliest girl was just what I needed, and more. I will tell you right now, prepare yourself to not put this book down!! Throughout this book, I giggled, exclaimed at the top of my lungs and cried and I really hope that there will be more stories with Romy Silvers in the future!
I NEED MORE.
Overall thoughts
I LOVED The Loneliest Girl in the Universe. It has been incredibly written, with an amazing female protagonist who continuously grows and you can't help falling in love with her. This book has me super excited to read more Lauren James books because I LOVE her writing style! The Loneliest Girl is a completely gripping page turner with twists and turns. The type behind this novel is completely 100% warranted!
It's not just a pretty face cover. IT'S AN INCREDIBLY PRETTY BOOK ON THE INSIDE TOO!
Flails out of 5?
The Loneliest Girl in the Universe by Lauren James, a captivating story that will want you knowing more, gets a big massive 5 out of 5 flails.