This week has been absolutely fantastic. Going for walks together with my partner and my mother-in-law has been wonderful. Today marks the final day and the completion of the avondvierdaagse. I am pleased to say that we were able to complete it! What an experience it has been. Here is the final blog of the avondvierdaagse!
The beginning of the end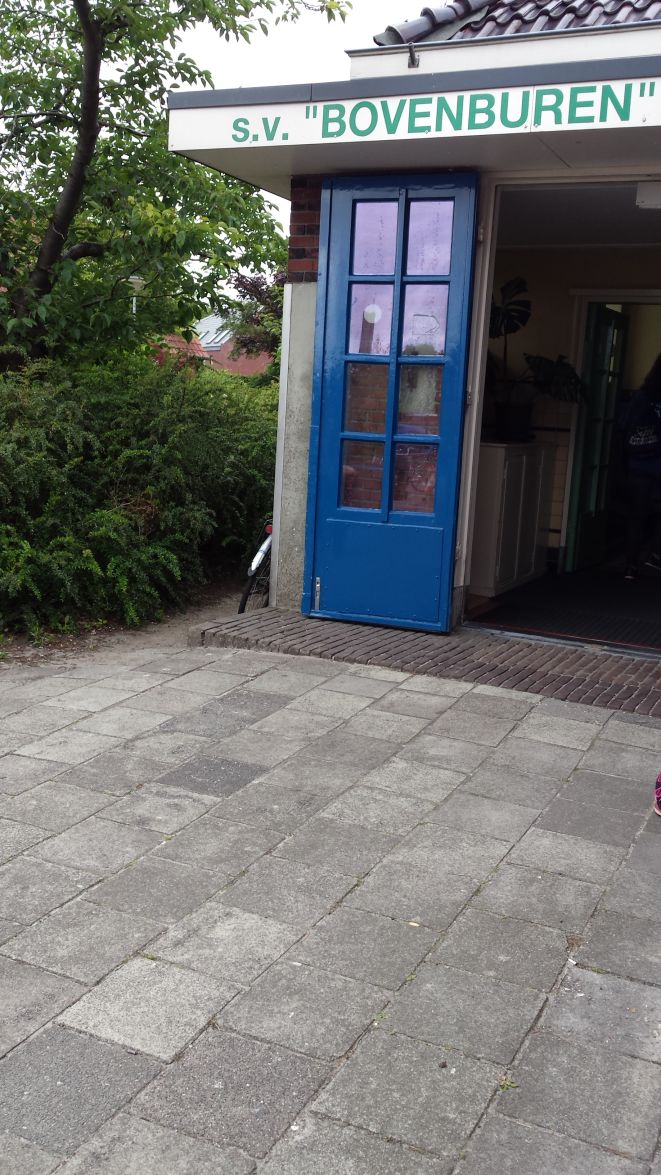 Unlike the previous days during the avondvierdaagse, we did not go to Oma and Opa's house after dinner. This was because we would not be going there after the walk. Instead, we would be going straight home. Because of this, once we finished our dinner we decided to relax for a little bit and then head to the starting location. The last day was also a later start that most.
The first part of the avondvierdaagse would involve us walking from the normal starting point until we reached the rosarium again. From here we would be allowed to go straight to a massive football pitch located in the park and wait here until the parade would begin. Once we arrived at the start location to sign in, we received our medals of participation (THEY WERE MEDALS!). We would not be putting these on though until the parade would begin. This is customary because once you are waiting for the parade to begin, you have successfully completed the avondvierdaagse.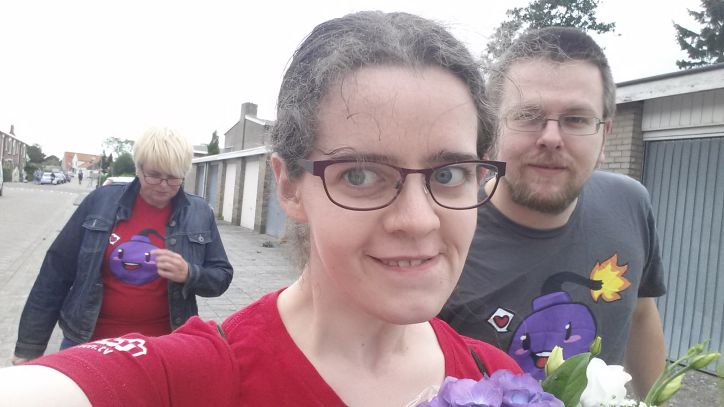 Today was pretty fun with what we all wore too. We all wore Bexy Bomb t-shirts which are related to my Twitch stream. It felt super cool! The walk to the rosarium was super easy and not too crowded, because you only needed to walk to the football pitch and wait. Because of this wait, we decided that we would stop at the rosarium cafe and have a drink and sit until nearer the time. I was super excited about this, because I have wanted to try a cappuccino at the cafe for ages. Today was the day!
It did not take us long to arrive. Once we arrived at the Rosarium, we picked a nice table outside, and waited to be served.
The Rosarium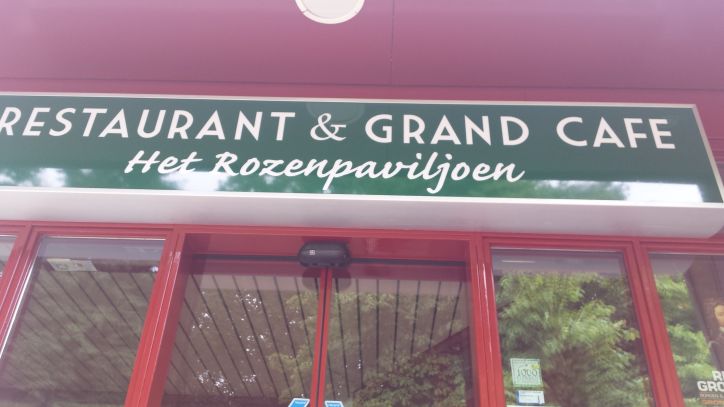 The cafe is beautiful. It looks overly posh for the location but I love how it looks. The waitress came to take our order pretty quickly. Me and my mother-in-law both decided on cappuccinos and my partner got an iced tea. Sitting here gave us a chance to rest and prepare for the evening and the parade. Unlike others days of the avondvierdaagse, today was pretty cold. I did slightly regret not bringing something warmer, but I figured walking would keep me warm. But sitting outside waiting for our drinks made me realize my mistake. In the end I was fine, but oh my goodness the wind was so chilly.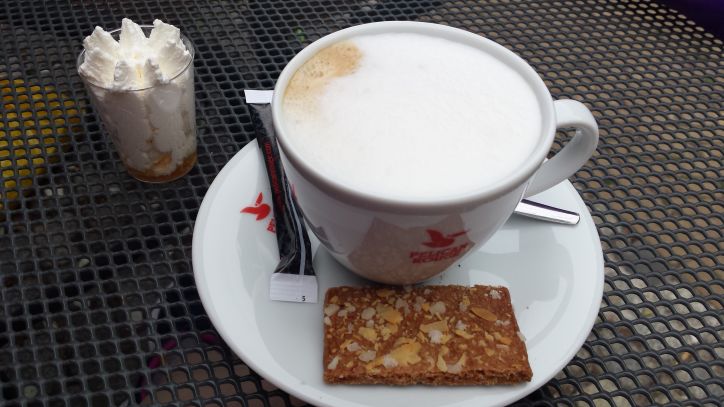 Once our drinks arrived, I was in awe. Not only did we get our cappuccinos with a delicious looking biscuit on the side (very normal in the Netherlands to have a biscuit next to a coffee), but she also served them with a little container filled with whipped cream and a tiny glug of amaretto. How posh is that?! To be honest, I have never had a cappuccino served to me like this. Once I saw how my mother-in-law added the cream and the amaretto, I followed suit.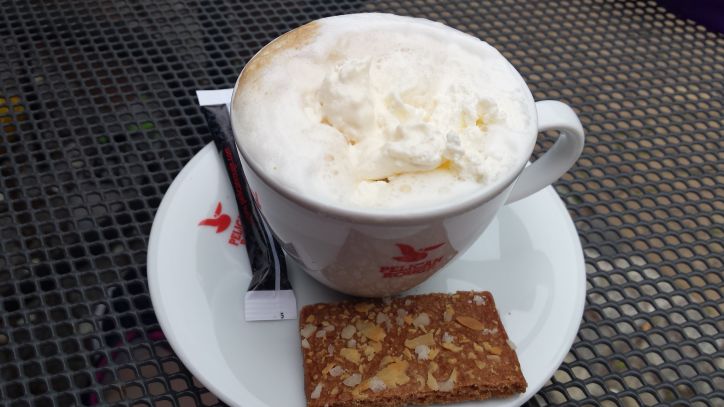 The tastiest cappuccino, ever.
This was by far one of the most delicious cappuccinos I have had in a long time, and I've had loads! I don't know if it was the added bit of cream with amaretto or just the cappuccino blend itself, but it was so tasty. The wait for this was worth it! It seriously was an amazing way to celebrate the end of the avondvierdaagse.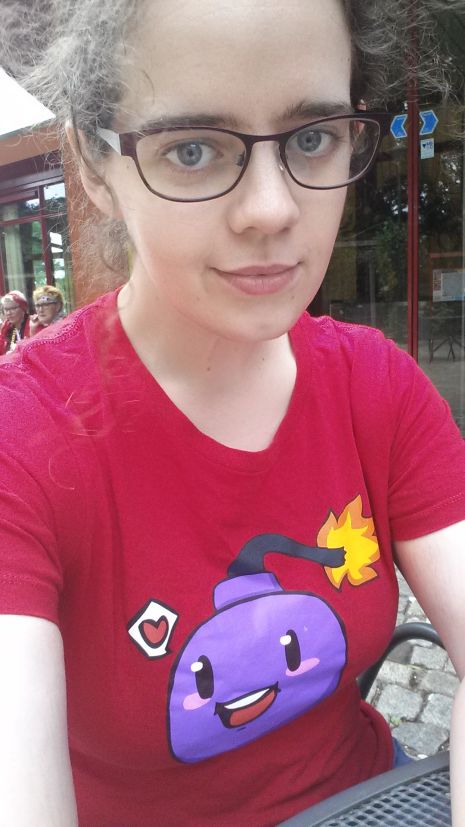 Once we finished with our drinks and waited around for a little bit, it was time to head off again. Only we were not going straight to the football stadium. Instead, we were going to go slightly to the side to meet up with the team my father-in-law was walking with, the Brandweer (Fire department). A group of them completed the 10km walk this year. In the parade, we would not be walking with them though since they are part of a group. We were part of the individuals group. We were at the cafe for about 30 minutes or so. Once everyone was finished, we headed off again to the point where we would meet his father and his group.
Waiting for partners fathers group (The Brandweer group)
It was not a far walk from the cafe to the meeting point. Literally just around the corner from the cafe. My partners brother-in-law and family friend (wife of one of the members of the group) were waiting there with a table set up with cups and snacks.
Eventually, my partners sister and the nieces arrived. It was so good to see them. They were super excited about seeing the parade. Standing here waiting allowed us to watch participants who had completed the 10km. Unlike the people (like us) who did the 5km, people who did the 10km needed to walk a little bit longer to the football stadium. That meant they were arriving from another street.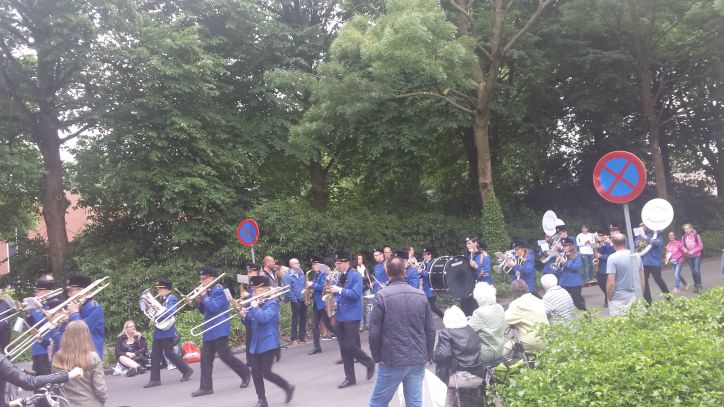 Since today was parade day, several different marching bands marched past us. Various groups including karate clubs, dancing groups and more. A wide variety!  I managed to take a quick picture of one of the bands walking past and they were pretty cool to listen to.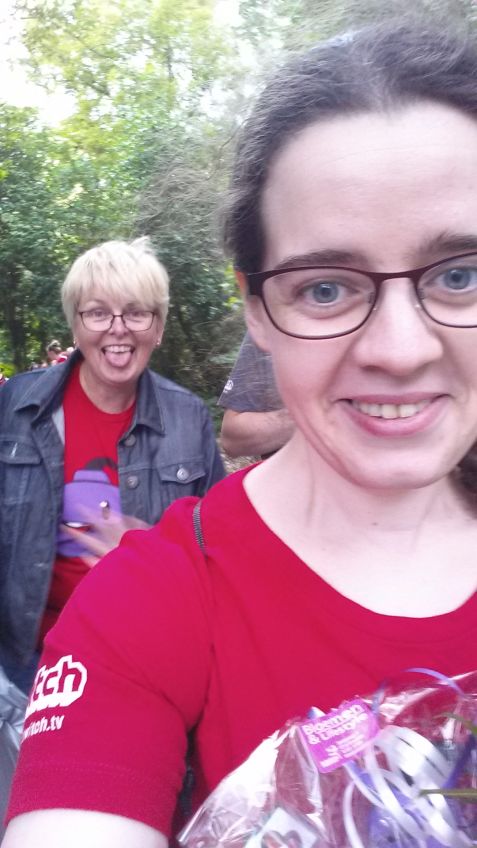 Once my partners fathers group arrived, they all broke off into having snacks and drinks. We didn't need to wait too long after this. Once we chatted with his father for a little bit, it was time for us to head off to the football pitch and wait for the parade to start. When we signed in at the beginning, we were also assigned an area to stand in. Our section was 6 – The Individuals.
Getting ready for parade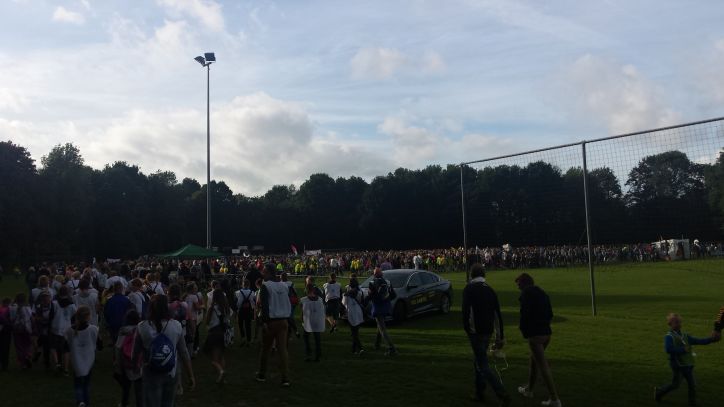 When we arrived at the football pitch, I couldn't believe the amount of people that were there. It was SO crowded. Each section was numbered so it was easy enough to find our section. Once we arrived at section 6, we walked right to the back because it would have been rude to just shuffle in at the front. All we had to do from here was wait.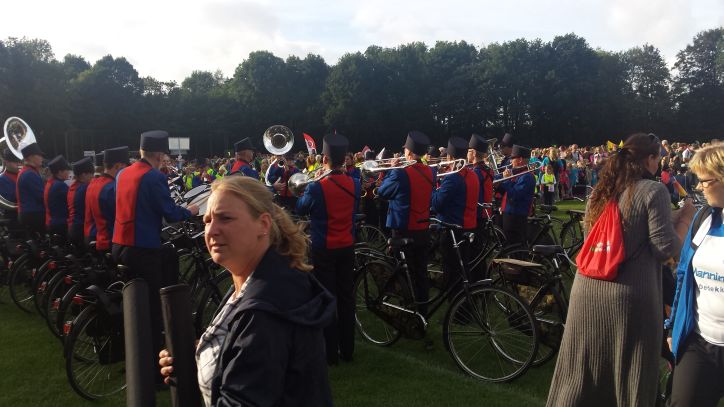 We waited for possibly 30 to 40 minutes here. It was fine, the weather wasn't too bad though my arms disagreed since they were freezing. There was so much stuff to see. The above picture shows a brass band that rode on bikes. How Dutch is that?! Super cool. Could totally imagine my old brass band doing that! Various bands were practicing, various groups waiting patiently for things to start.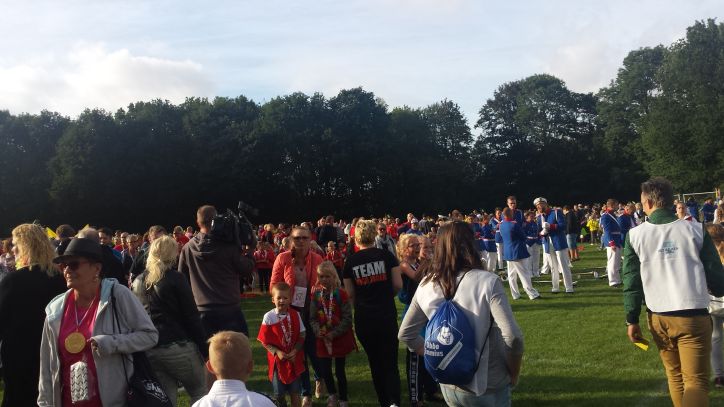 But there was one group that my mother-in-law noticed that I just had to go over and see. Little did I know the feelings that I would suddenly have.
Pipe band and feelings of home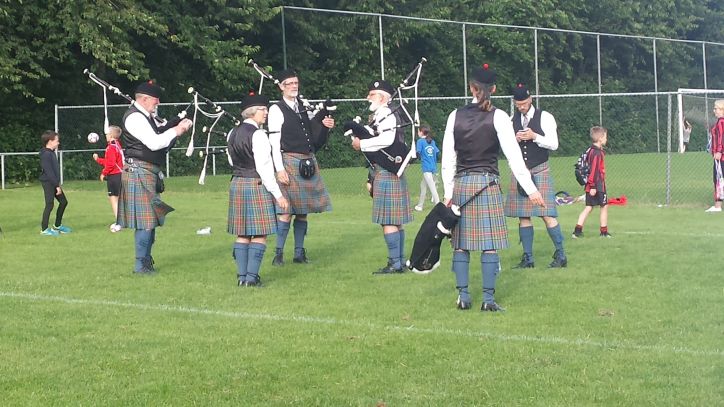 Far over to the side of the football pitch, there was a pipe band. A proper pipe band with bagpipes and drums, the lot. I had to go over and see them because this just made me super happy. One of the guys was practicing the bagpipes while others just fiddled about with their bagpipes and drums. They were called The Clan McBeth Pipe Band from Groningen. We watched them for a little while while I took some pictures.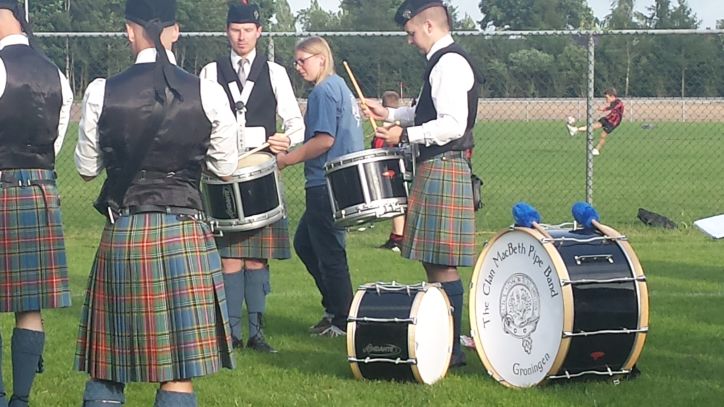 Once we were done, we started to walk back to our section. Just as we were, they started to play The Flower of Scotland. We didn't stop again to listen, but while we were walking, something inside me just lifted. Listening to the bagpipes listening to a song very close to home made me realize just how much I do miss being in Scotland. I couldn't help it, I cried. I had to hug into my partner because I felt silly crying about it, but I couldn't help it. My mother-in-law also started crying because she saw me crying.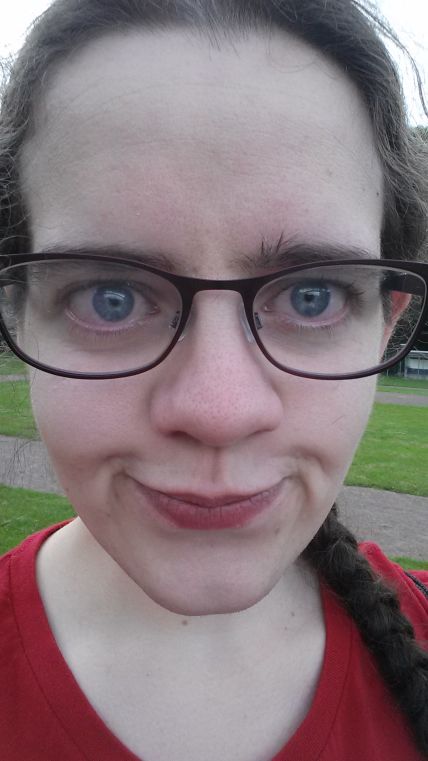 The emotions that welled up inside me were intense. I couldn't imagine what I would feel seeing them. It honestly threw me off mood for quite a while. Just thinking about home, looking forward to August to see family again. So many thoughts. But, I could not let me thinking of home ruin the fun of the parade and the excitement that would come from that. After a while, I was able to settle down.
Medal time!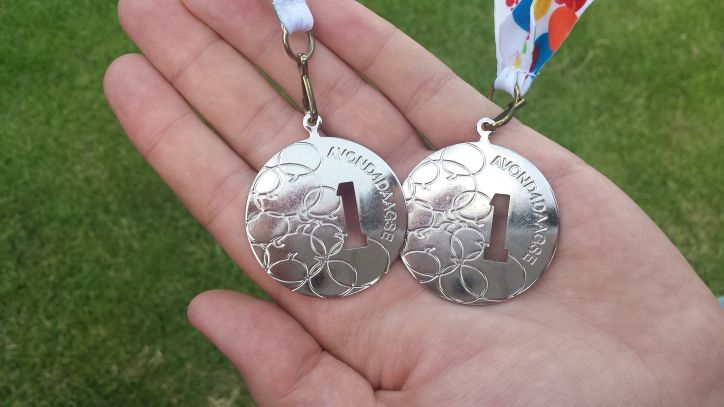 We decided to then take out our medals and put them on. My partner had told me that it was just a pin that you would be allowed to put on. But they were infact medals. Real ones that go around your neck. I was extremely happy about that, I love medals! They were beautiful, with a lovely ribbon.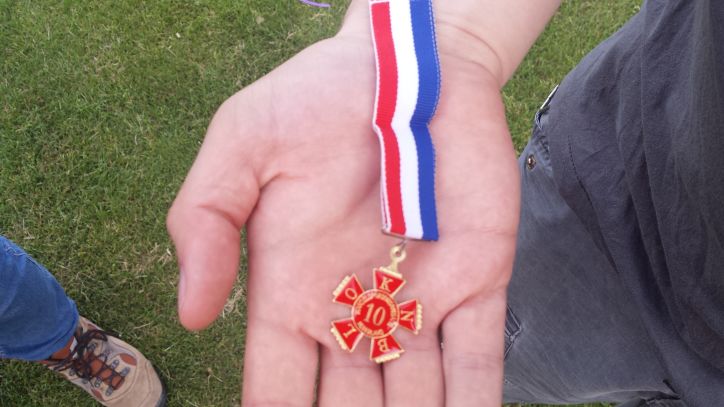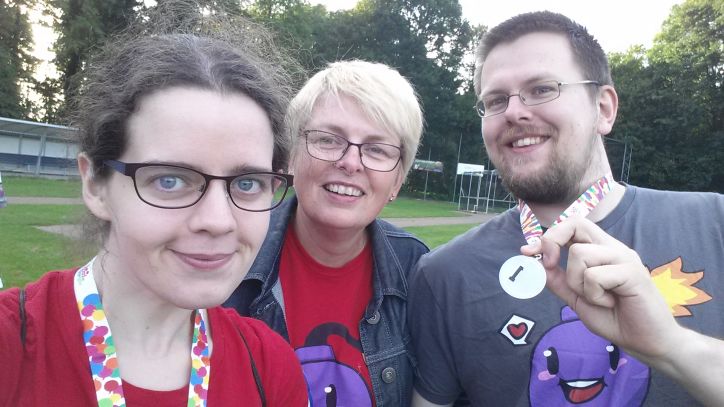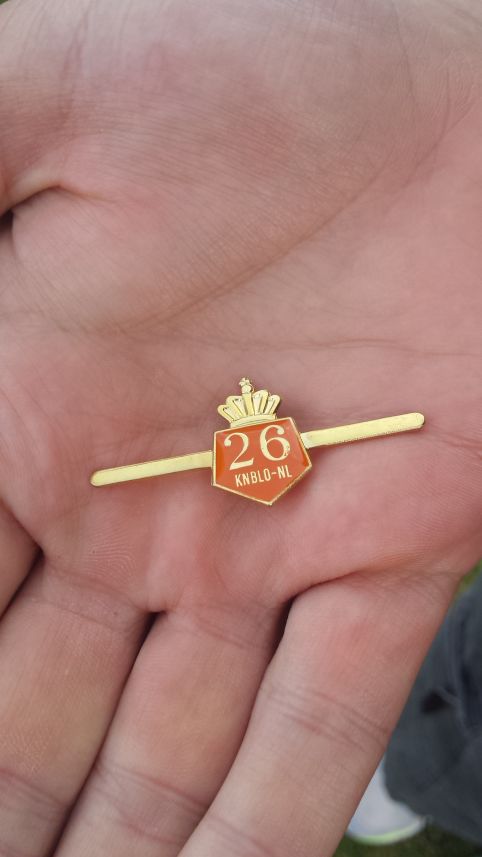 My father-in-law however did not get a medal, but received the pin. It looked lovely. Once we all put our medals and pins on, we were ready to proudly walk in the parade.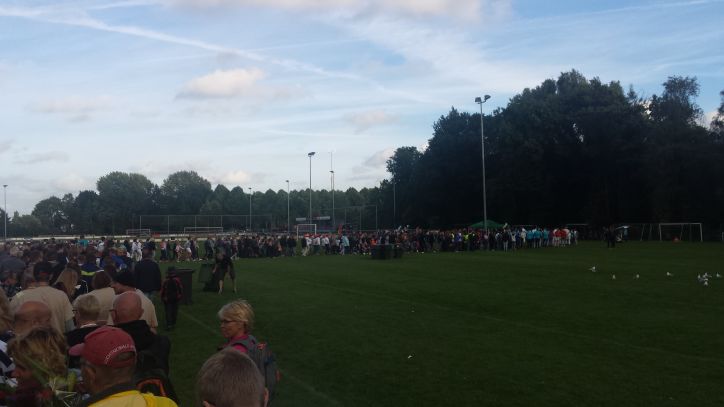 A short time later, the parade was starting to move. Each section would start being ushered out. It did not take long until our section was next to walk. The bands were playing, people were starting to cheer. It was time to walk through the streets in the parade!
Time to parade!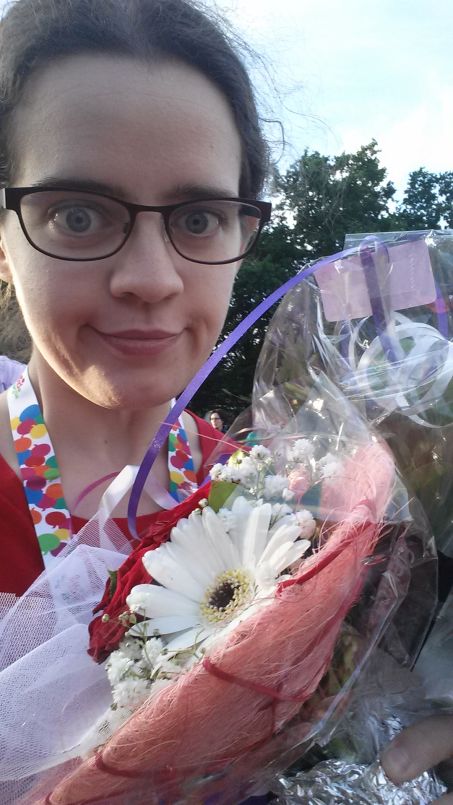 One thing I did not expect (or I was, but I did not expect it in the way it happened) was that during the parade, people would be handing out gifts of flowers and sweets to congratulate you on walking. My partners sister was there to hand me a beautiful bouquet of flowers, the niece gave us hugs, Oma and Opa gave us flowers too. It was an incredible emotional and exciting experience. The streets were FILLED with people congratulating everyone and handing out gifts to their families. So instead of me constantly writing about the parade, here are some pictures that I managed to take while walking. The pictures will be able to tell you a thousand more words than I possibly could.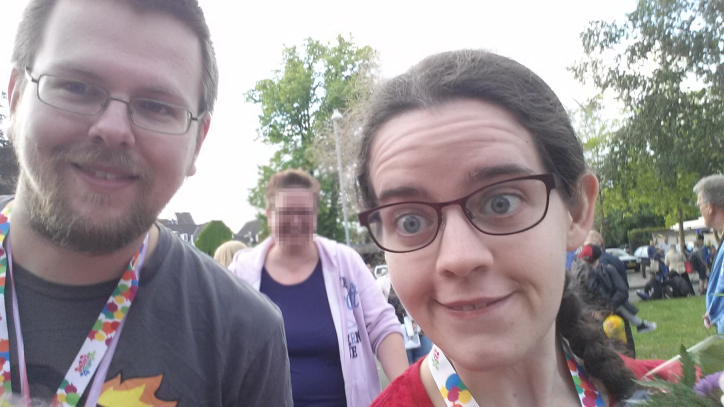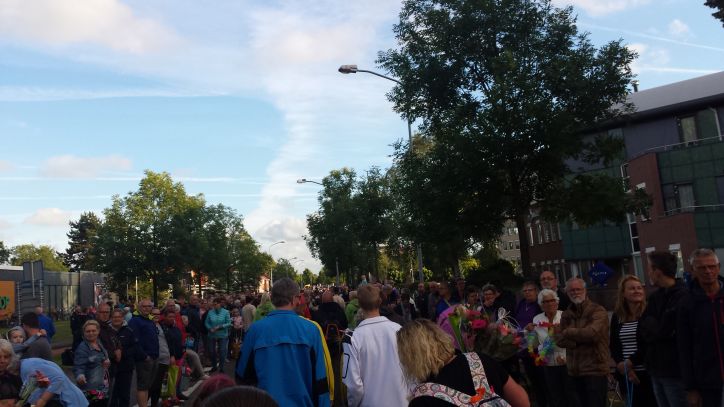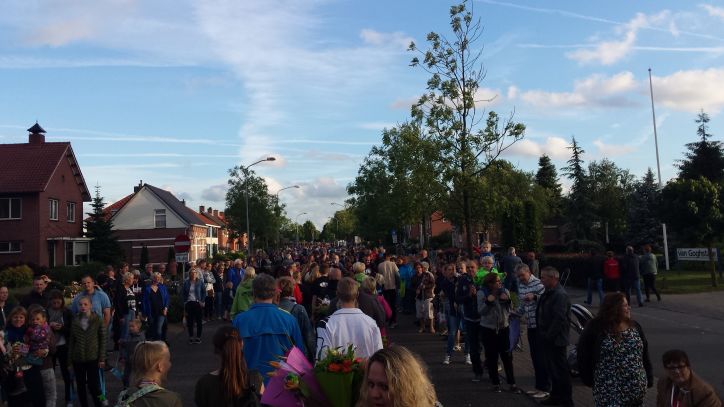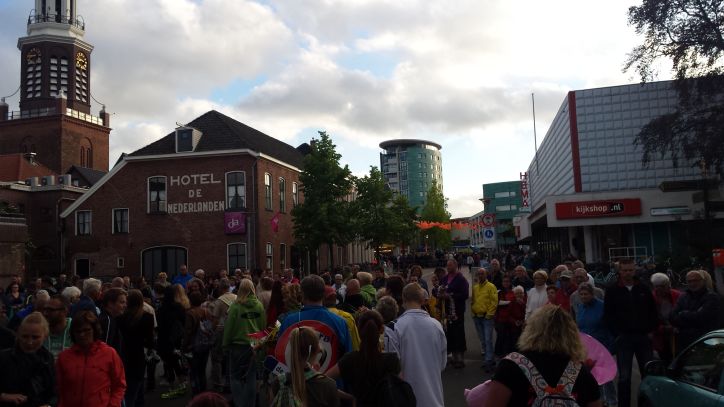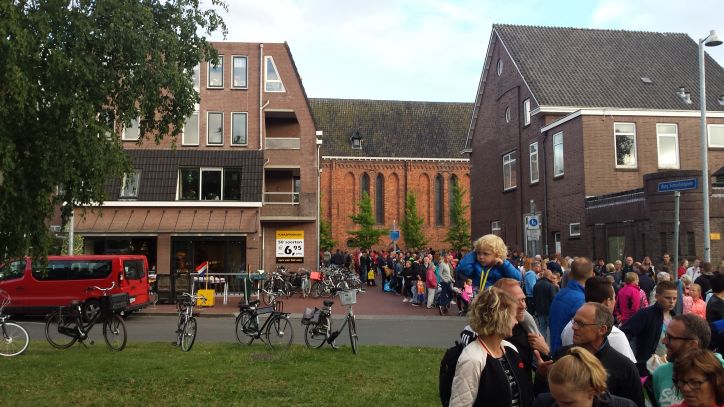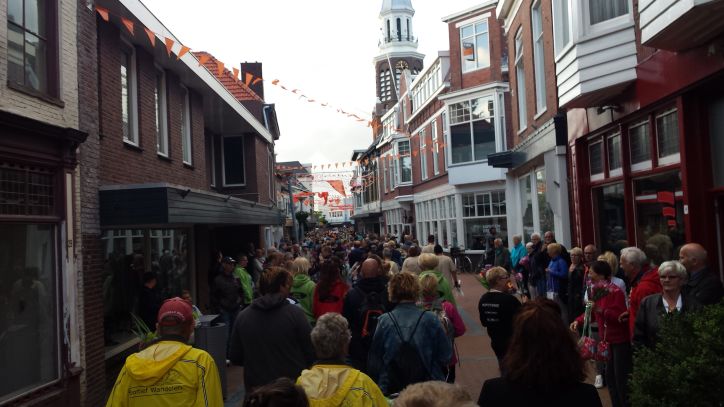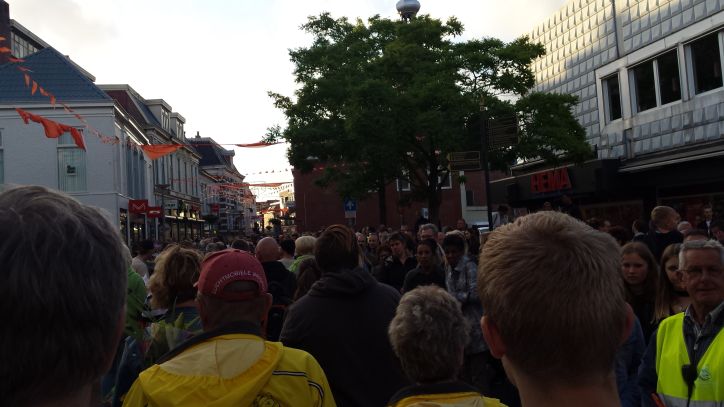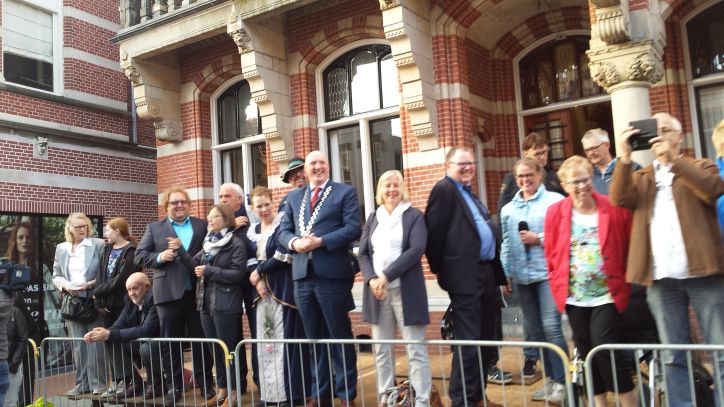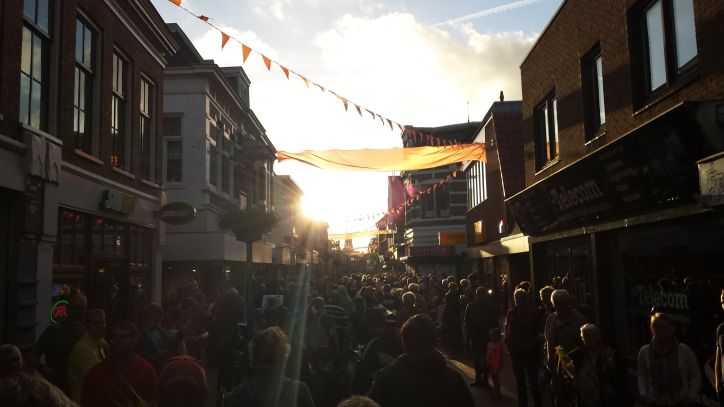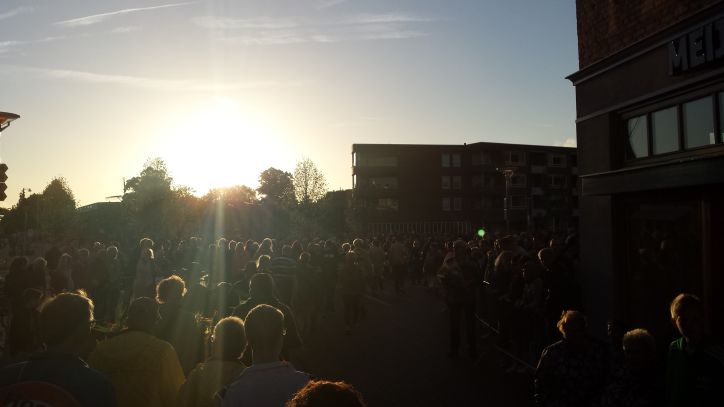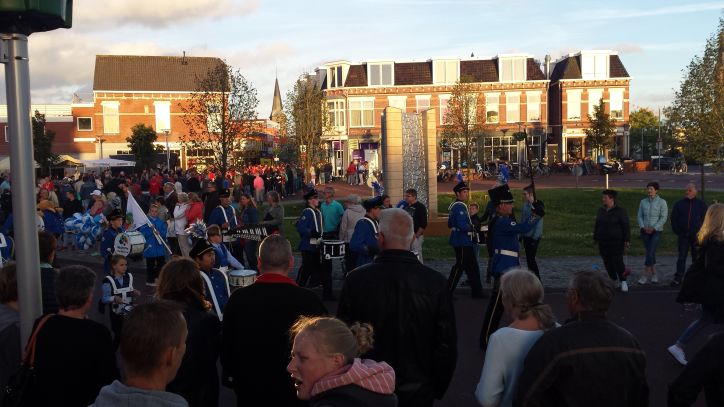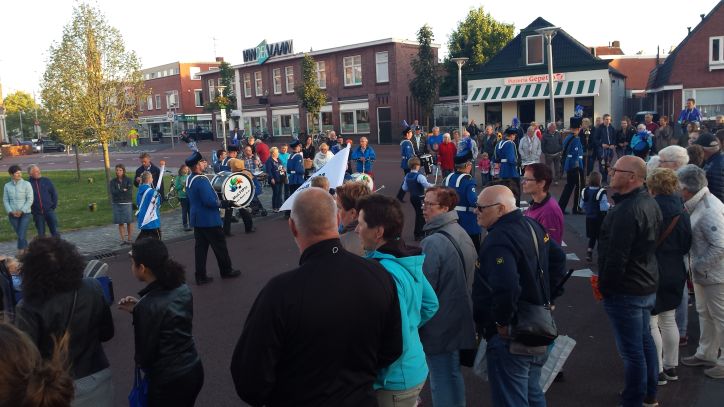 Once we exited the main street, the parade was over. We quickly nipped out so we could take pictures of the band behind us who were playing the entire time. What an experience it was.
Overall experience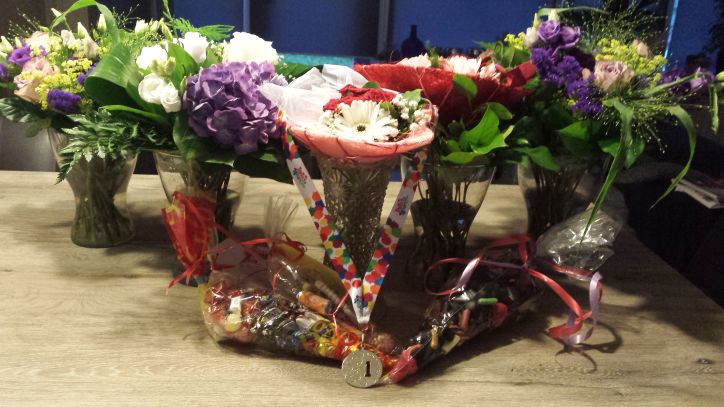 I could not get over how proud I felt during the parade. Even though this was not my first ever parade (been in several with schools and with the Girl Guides) however this was the proudest I have ever felt being part of one. This parade was to celebrate the completion of the avondvierdaagse. While walking, I couldn't help but puff out my chest and smile. So many emotions were filling my head while the bands played and the people cheered and waved at us. It was such a fantastic experience.
The entire week has been an amazing experience. Wonderful walks, good company and a parade to round off our achievement. I am so incredibly thankful to have taken part. I am also super thankful that my partner and mother-in-law wanted to take part alongside me. Even though I know I could of done this on my own, having them next to me made it 100% better. Next year I know for certain I will be taking part again. Only next time I shall be attempting to do the 10km walks instead of 5km. I know that I have the capability of succeeding if I put my mind to it. I have plenty of time to prepare myself for it.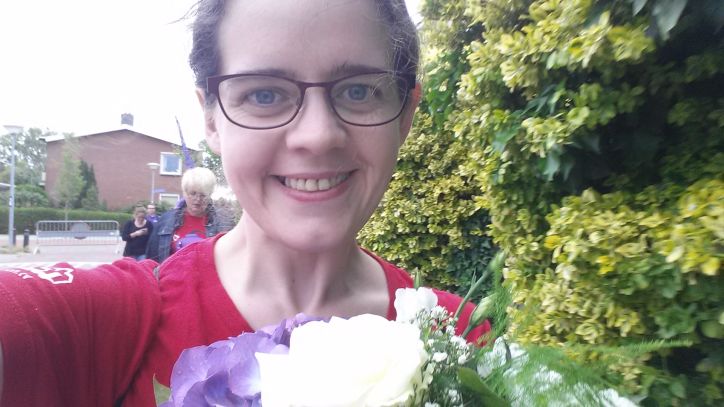 So that's it. It's all over. I just can't wait to do it all over again.
Have you ever participated in a walk like the avondvierdaagse? Let me know!