Today marks the beginning of something exciting. I mentioned it in May's blog. As of today, the Avondvierdaagse has begun! Over the course of the next 5 days (2 walk days, rest, then 2 walk days) I will be posting how the walk went and what I enjoyed about them. Since this is the first blog, I will talk a bit first about what the avondvierdaagse is!
What is the Avondvierdaagse?
Avondvierdaagse, which in English translates to 4 evenings (literally translated to evening (avond) 4 (vier) days (daagse)) is a week of the year where participants walk over the course of 4 evenings. It happens in a variety of different cities and towns around the Netherlands. People who want to participate need to pay a little bit of money for health and safety reasons as well as pays for your medal. During the avondvierdaagse, usually 3 distances are available to walk. 5km, 10km or 15km. These are the most normal distances.
Different walks are available Monday to the Thursday. On the Friday, a parade takes place for all participants who completed each of their walks throughout the week. This parade walk is the 4th and final walk. Because of this, participants need only complete 3 of the 4 walks throughout the week. Many communities, clubs and schools join the avondvierdaagse.
On the last day, people who successfully walked for 4 days will receive a medal of participation. People will watch people walking outside their houses or on the streets and cheer them on. At certain points, there will be people who have various sweets and drinks for participants (mainly for children). It is also very normal to buy various sweets in stores during the avondvierdaagse which can include sweet bouquets and sweet medals.
Day One of the Avondvierdaagse
Today was the very first day of the avondvierdaagse. Throughout the day, I was super excited and slightly nervous about it. Excited because I have been looking forward to this for a long time. Nervous because I did not know what to expect. A new adventure! An added worry was the weather being weird. It constantly kept switching between rain and clouds and sun. I am happy to report that it did not rain the entire walk. Success!
Once my partner came home from work and we had dinner, we headed out on our bikes up to our Oma and Opa's house. We will be going here every day before the walk so we can drop our bikes off, meet my partner's mother and head off to the starting point. The avondvierdaagse began at 5pm, and participants are allowed to start anytime after that. We decided the best time for us to start would be 5:30pm. This would give us plenty of time to have dinner beforehand.
Start!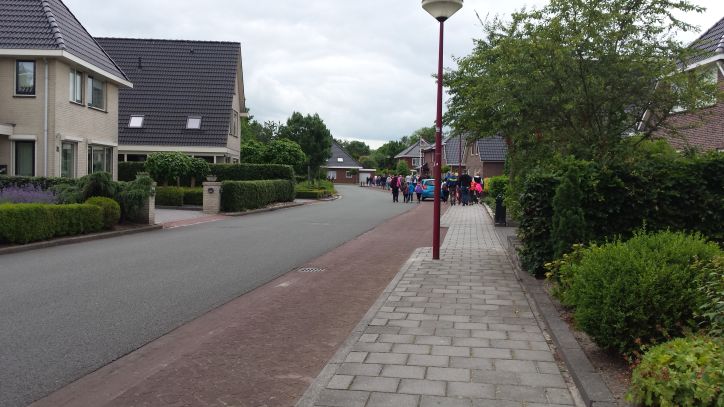 Once we arrived at the starting point, we had to check in and then we would be ready to go! We received a piece of paper with the route to take. It was very simple to follow, not only because of the arrows on the ground and barriers, but because of the amount of people taking part. There were LOADS! The main thing I noticed was that the 5km walk mainly involved groups of children from schools. Very cute.
The walk that we went on today took place through mostly urban areas (streets) and beside a park. It was very pretty. What I really enjoyed about this walk (and look forward to with the others) is that it is allowing me to see other areas of Winschoten that I have never seen before.
How was the first day?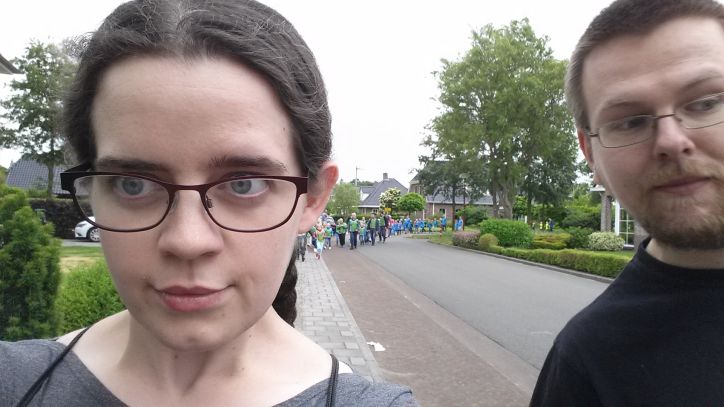 The walk was really good. At first I did not know what to expect, but once we got into the swing of things, it was amazing. I really enjoyed seeing other areas of where I now live. It was also a good experience because my partner and his mum were with me. I truly believe that the walk would be not as fun if they weren't with me. So I am thankful they wanted to join me!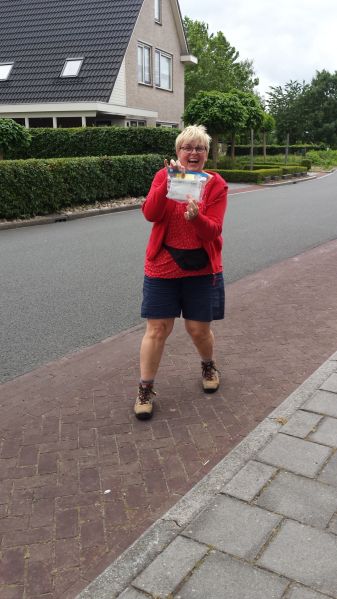 I am incredibly excited for day 2 of the avondvierdaagse! This is a new feat for me. I have never taken part in a walk like this before. There will be something new to see every day and I can't wait to talk about it!
Have you ever taken part in an avondvierdaagse? Or would it be something you would like to participate in? Maybe you have something similar where you live? Let me know!