If you haven't read my love for my slow cooker blog yet, I suggest you go and read it first here. This sweet and sour chicken recipe is one of my go-to dishes for the slow cooker. This recipe originated from my favorite slow cooker book. Below I will share with you what ingredients you need, and how to prepare everything!
The Ingredients
Here are the ingredients that you will need in order to create this sweet and sour chicken recipe.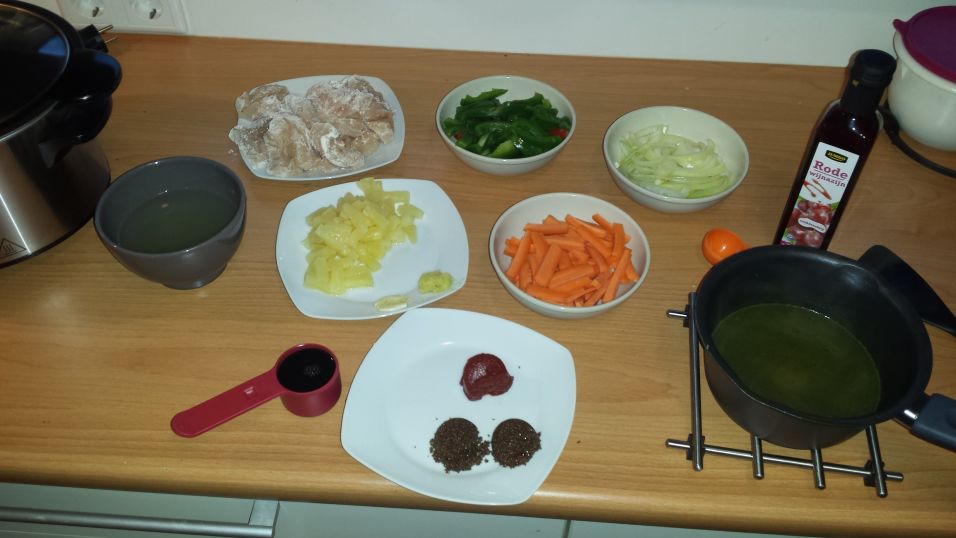 500g Chicken (Covered with salt and pepper seasoned flour)
400g Pineapple and their juice
1 garlic clove, crushed
2cm of Ginger root, finely minced
1 carrot, peeled and sliced thinly
1 red pepper, sliced thinly (pictured is half red, half green – using leftovers!)
1 onion, sliced into rings
1 tablespoon tomato puree
50ml red wine vinegar
200ml hot chicken stock
2 tablespoons dark brown sugar
1 tablespoon dark soy sauce
Noodles or Rice for serving
Spring onions for garnish.
Method
If you haven't already prepared this in advance, add some flour into a bowl seasoned with salt and pepper. Slice the chicken breasts into slices – removing any fat – and add them to the seasoned flour and toss around until fully coated. Set to the side.
Remove the pineapple chunks from the pineapple juice and save them for later (slice 2 pineapple rings if you bought rings instead of chunks.)

Add all of the sliced vegetables into the slow cooker – the carrot, pepper, onion, ginger root and garlic. (as pictured above)

Add the liquids into the slow cooker – the pineapple juice, tomato puree, red wine vinegar, dark brown sugar and hot chicken stock and mix everything well. (as pictured above)

Put the chicken slices into the slow cooker and mix everything in the slow cooker well. Cover with the lid. (as pictured above.. without lid.)
Put the slow cooker on for 8 to 10 hours on LOW until the chicken is cooked through and the vegetables are tender to the touch.
Before the slow cooker has finished, prepare rice or noodles to serve alongside the sweet and sour chicken.
Once finished, add the pineapple chunks into the basin and mix through and serve with garnishes of green onions. (As picture below! Yummy.) 
Optional: You can also garnish the top with sesame seeds. 
Thoughts
I LOVED making this meal! It was so incredibly tasty. The pineapples were delicious and the balance of the sweet and sour flavor was spot on. I would make this meal again in a heartbeat.
I believe if you want to replace the pineapples for something else (if you're allergic) I think some good alternatives would be either peaches or a nice mango. Lime and Orange juice could possibly work for liquid, which would have the same acidity that pineapple juice would provide to the dish.