As my first book for BookTube-A-Thon, I was really excited to have picked Simon Vs The Homo Sapiens Agenda by Becky Albertalli. It has been on my TBR list for a long time, and I was excited to start. However, I did not expect that this book would be completed in one day. It put me in a reading trance and I could not put it down! What a fantastic novel. This is my outstanding review for Simon Vs!
Simon Vs The Homo Sapiens Agenda by Becky Albertalli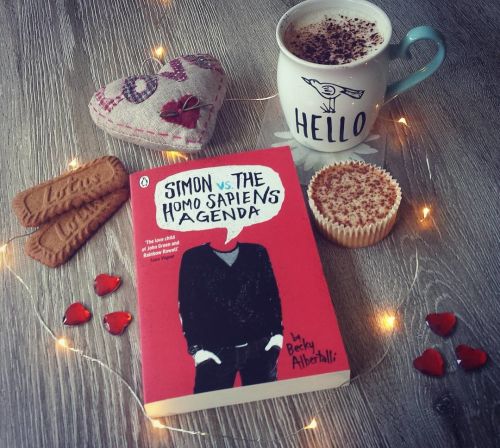 Simon Spier, a boy who lovers Harry Potter and Oreos. A boy who enjoys going to the Waffle House and performing in his drama class. Oh and he is gay, but nobody knows about it. Not his sisters or parents, not even his closest friends. However one person knows his secret and he could possibly be the love of Simon's life.
Under online aliases, Simon emails a boy called Blue. Ah, Blue. He who is perfect in so many ways. Without giving much away about their real lives, they can openly talk about everything. It is love at first sight… or message.
But everything Simon holds dear is about to come crashing down. Martin, the class monkey stumbles upon his email at school. Now Simon's secret may be compromised and revealed if he does not do what Martin says.
Simon's friends are starting to reveal more about themselves. The emails between Blue and himself are starting to become tastier than a packet of Oreos. Can Simon handle his now weird year of junior school without risking his secret?
The most awesomely adorable book ever.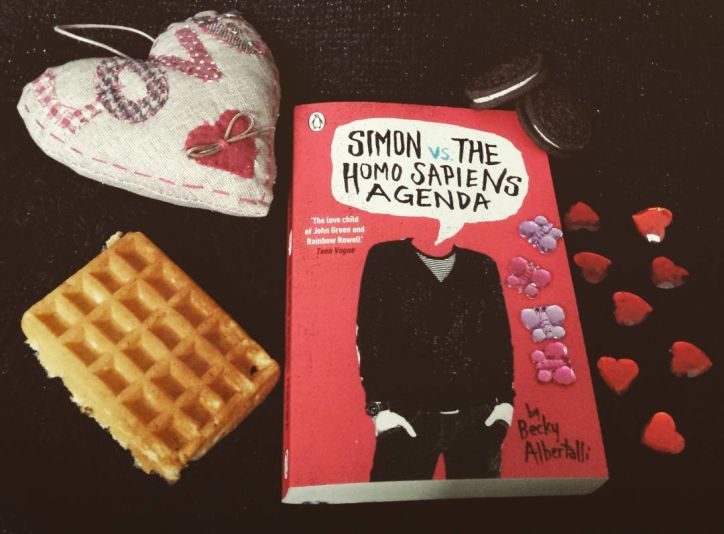 From the very beginning I was hooked. Simon Vs is an incredibly charming novel. I still can't get over how happy I felt while reading! To be honest, I am glad I read this in the comfort of my home. If I had read this anywhere else, people would of stared at my constant Cheshire cat smile. I was beaming from ear to ear!
The way that Albertalli developed Simon's character made you fall in love with him and his personality. He is such a quirky nerdy boy who loves Oreos, Waffles and Harry Potter. I mean come on, what is there NOT to love?! He is just outstandingly adorable. I could just pinch his cheeks!
Not only was Simon a fantastically portrayed character, but the other characters within Simon Vs were also great. Nick, who had been friends with Simon since a young age was a typical junior soccer boy and overall bad ass when it came to playing guitar. His character developed in a great way and the friendship that he and Simon shared was special. That's what you get when you know someone for so long! Leah was also an excellent character not only because she has been friends with Simon for years, but she is a closed book of emotions, or "deadpan". You had to keep trying to think what she was feeling. Abby was an incredible character to read about. She was quirky and pretty and is classified as one of the popular girl who everyone wants to be with. Her friendship with Simon was so incredibly sweet!
Sweet sweet blue

Speaking of sweet, can I just talk about how amazing Blue was as a character and the connection he had with Simon. I was constantly trying to figure out who Blue really was. It made the book really enticing and  whenever a new clue would drop, I had to keep thinking who it was! Of course I will not say a damned thing about who Blue was, because I believe that is a massive selling point for this book. The constant "who is he" questions. Is he a friend? Is he from his class? Maybe he's lying about things? SO MANY QUESTIONS!
Simon Vs has also been one of the only books that has made me go back and re-read the last few chapters of the book. As soon as I finished reading, I couldn't stop thinking about the ending so I had to re-read it. I did that about 3 times. Every time I re-read them, I could not stop smiling.
Important message to young people
I personally feel that Simon Vs explores the realm of homosexuality and the fear of "Coming Out" very well. Of course I cannot speak from personal experience, but several of my friends who have went through this hurdle would probably agree with the feelings Simon and Blue felt. The book shows the inside of Simon (and Blue's) mind about how they would go about telling their family and friends their sexuality and the worries that come along with that.
The amount of worry that is there can be huge. Not knowing what your family and friends will say or think can be crippling. I really admired the strength that Simon had when facing Martin and his blackmailing. He was also so supportive with Blue while talking about the troubles of Coming Out. He would be there for him no matter what.
Simon Vs should be a book that is readily available in schools across the world because it has a powerful message. You should not need to worry about what people think of you. Of course it can be tough, the not knowing can be horrible. But people will always be there no matter what to support and love you. I feel that once Simon was over his Coming Out wall, he was happier and could just be himself. He could just be plain ol' Simon.
Overall thoughts
Simon Vs has made me discover a hidden happiness. Never have I felt happier than turning the pages of this book. I still cannot get over the fact that this book was finished in one day. If you know me but at all, you will know this is unheard of!
Albertalli's writing style and story telling oozes with charm. Simon Vs oozes with sweetness and love and emotion. I laughed so much, I gasped, I wanted to cry. All of this compelled me to keep reading. This book is already on my re-read list. It has to be because of how happy it made me feel. I loved every single thing about it. Just…
I CAN'T EVEN. 
What a fantastic novel.
There's this pause. We're still looking at each other. And there's this feeling in my stomach like a coil pulled taut.
"It's you," I say. 
Flails out of 5
Simon Vs The Homo Sapiens Agenda by Becky Albertalli, a book packed with adorable and laugh out loud moments, receives a whopping 5 out of 5 flails!

Now if you'll excuse me, I have a sudden craving for a certain biscuit cookie…