What a book. This was my most anticipated book of 2017 and it delivered in spades. What an emotional roller coaster ride. This is my thoughts and review on Our Dark Duet!
Our Dark Duet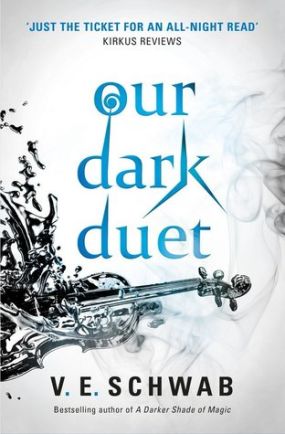 Author:  V.E. Schwab
Pages: 470 (PB)
Genre: Fantasy, Young Adult
Published: June 13th 2017 (TITAN BOOKS)
Blurb
THE WORLD IS BREAKING. AND SO ARE THEY.
KATE HARKER isn't afraid of monsters. She hunts them. And she's good at it.
AUGUST FLYNN once yearned to be human. He has a part to play. And he will play it, no matter the cost.
THE WAR HAS BEGUN.
THE MONSTERS ARE WINNINGS.
Kate will have to return to Verity. August will have to let her back in. And a new monster is waiting – one that feeds on chaos and brings out its victims' inner demons.
Which will be harder to conquer: the monsters they face, or the monsters within?
Thoughts
Holy crap. Can I just start by saying that Schwab has once again proven that she knows what she's doing when it comes to story telling. Our Dark Duet completely broke me into a million pieces. What an incredible finale to the Monsters of Verity duology.  Our Dark Duet's story begins a few months after the conclusion of This Savage Song, but it flowed beautifully.
The story and world building of  Our Dark Duet was explosive, filled with drama and so god damn emotional. Seriously, the emotions I felt were through the roof! What a roller coaster ride. Totally in awe with how Schwab can bring about emotions of utter rage and distress and sadness. So much sadness. But that is how incredible she is as an author.
Kate and August…. are such incredible characters
The book brings back our two fantastically lyrical characters once more. Everything starts off with Kate, the bad ass monster hunter who now lives in Prosperity. Allowing new people into her life and becoming part of a monster hunter group within this new city allowed Kate to enjoy life again. But of course, this new life of Kate's was never going to last, not really. Because when she found a new monster, it took a path towards her old life, back to the city of Verity.
Our Dark Duet made Kate into an even more incredible female protagonist, if that was even possible! Having to face tough decisions but not shying away, she faced them head on. The amount of bravery and courage that Kate has is admirable. Of course with Kate going back to Verity, it meant she needed to face an old friend once more, August Flynn.
Oh August, I love him so much. What a way to live your life. Of course August is a Sunai, a monster. Even though once upon a time he dreamed to be human, the war in Verity chose a different path. He needed to become the monster that he really is in order to tip the tides of war. With August, you could feel the pain of what he had to face. How he really needed to become a monster in order to help his side of the wall.
August's character in Our Dark Duet grew so much and I still find him super fascinating. I hated how much pain he felt while doing his "monster duties for the greater good". And for him to come face to face with Kate again , oh my heart!
I'm still not over it
Overall, this book was everything I wanted and more. It is just the perfect ending to Kate and August's story. Schwab steals away a piece of my soul every time I finish one of her books. My heart will probably never fully heal after Our Dark Duet, and you know what? That's fine. It's the way things were meant to be!
What a book.
Flails out of 5?
Our Dark Duet by V.E. Schwab, a bloody fantastic novel, gets 5 out 5 flails!
BUY THIS BOOK DAGNABIT. 

Buy this book from Book Depository