What a great book. For me though, it was pretty hard to read. This was because sometimes throughout the read, the story felt a bit too real. Here is my thoughts and review for Juniper Lemon's Happiness Index.
Juniper Lemon's Happiness Index review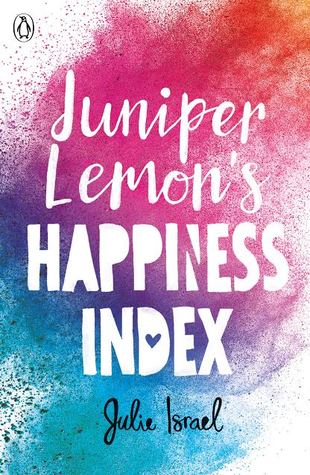 Author: Julie Israel
Pages: 352 (Paperback)
Genre: Young Adult, Contemporary and Romance
Published: 1 June 2017.
Blurb
It's hard to keep close a person everyone keeps telling you is gone. 
It's been sixty-five days since the accident that ripped Juniper's world apart. Life without her kind, beautiful, vibrant big sister Camilla is a colder, darker place.
Until she discovers the letter. The letter Camie wrote, but never got to send. It's mysteriously addressed to 'You' and dated July 4th – the day of the accident. Desperate to learn the identity of Camie's secret love, Juniper starts to investigate.
But then she loses something herself. A card from her daily ritual, The Happiness Index: little note cards on which she rates the day. The Index has been holding Juniper together since Camie's death – but without this card, there's a hole. And this particular card contain's Juniper's own secret: a memory she can't let anyone else find out.
An unforgettable story of love, loss, mistakes and memories.
Thoughts
Overall, I enjoyed this book. Israel really thought into each word and really brought the topic of loss and regret home. But I think for myself, this book was a very tough one for me to get through. This is due to the main subject of sisterly loss. It made me think of my own life and the loss of my big sister at a young age.
For that reason, I found the book pretty tough at times. I needed to put the put down the book several times just to relax my brain and then go back to it. Once I had finished Juniper Lemon's Happiness Index, I couldn't stop thinking about it. It took me forever to move on from it and read another book. Yes, it put me into a reading slump. Was this a good or a bad thing? I really don't know. But what I do know is the fact that this book affected me so much really made me realize just how well written it was.
Maybe this book wasn't a good choice for me in terms of going through something similar, but god I am glad I read it. The fact that Israel was able to bring out these memories of me and my own sister and the love I shared with her made it a very special read.
The characters were all very well written and the build-up of the story really made this a book an emotional and heart-warming read.
Flails out of 5?
Juniper Lemon's Happiness Index by Julie Israel gets 4 out of 5 flails. It's a great book but god damn my feelings!