This is the third blog in a series that is leading up to my 2 year anniversary. The first blog is about my obesity which can be found here. The second is the beginning of my journey which can be found here. This blog will be a continuation from them about my journey towards surgery.
Journey towards surgery
At the start of November, I received my letter with the date to start attending the Fast Track group towards weight loss surgery. I could not be more excited to start. The group that was involved with this Fast Track group was incredibly small and lead by 2 dietitians who were both lovely. We were informed that during these next few months, things will be hard. If we gained any weight, we would more than likely not be allowed to attend the bariatric group. Members of the group were also told that if we did not attend 99% of the meetings, we would not be put forward to the bariatric group. Of course if we had a planned holiday or something already booked, then fine. As long as they were informed.
This was going to be a tough few months.
Food diaries are amazing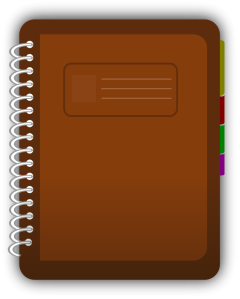 One of the main things I focused on during this time was my food diary. Every single day no matter what, I would write into my food diary with what I ate and drank. Even if I had something bad to eat, I would write it down. I used a food diary since the beginning of my weight loss in February, however the Fast Track Group made me more focused on it. I made sure that everything I wrote down was within my calorie limit. Every day I made sure that I did not eat too many fatty foods. Food diaries are just an incredible way of keeping you on track of what goes in your mouth. They are also a good source to discover what 'addictions' you have.
At every meeting, I made sure that I attended. I was not about to give up my chance to be eligible for weight loss surgery. Determination was the key.
I succeeded.
Bariatric group
Getting the letter to start bariatric group was one of the most exciting moments of my life. Because I knew at the end of this, I would be able to start a new life. A life where I would be happy and confident. I could not wait to start. The first meeting started in February 2015. A full year into my journey into weight loss. It felt like it was meant to be.
The meetings, just like the Fast Track Group, would meet once every 2 weeks on a Thursday. During these meetings, we would be informed about everything there is to know about the weight loss surgery. What different types of weight loss surgery there was. The various changes that our body would go through after weight loss surgery and what was expected of us during these meetings. It is just the same as fast track, where we had to make sure we continued to lose weight.
I adored attending the bariatric meetings. Because the amount of information that was provided was incredible. You also felt incredible being surrounded once again by like minded people. The dietitians were amazing to talk to and the head nurse was a laugh.
We had visits from the surgeon who deals with bariatric weight loss surgery. There were also people that came in who underwent surgery to tell us what their journey was like and how they felt afterwards. We also had a visit from a psychologist who told us all about the various triggers that people could have for food, and that the emotions that would happen during weight loss surgery. I loved these meetings.
Dust Diet (pre-op diet)
During these meetings as well, we were given information about the pre-op diet called the Dust Diet. This diet needed to be completed 2 weeks prior to any surgery. The reason for this diet is to allow the liver to shrink and giving the surgeon a better access to the stomach for the operation. The dietitians also told us that if we failed to do the dust diet, we would not be allowed surgery. It was for our safety that this had to be done at the end of the day.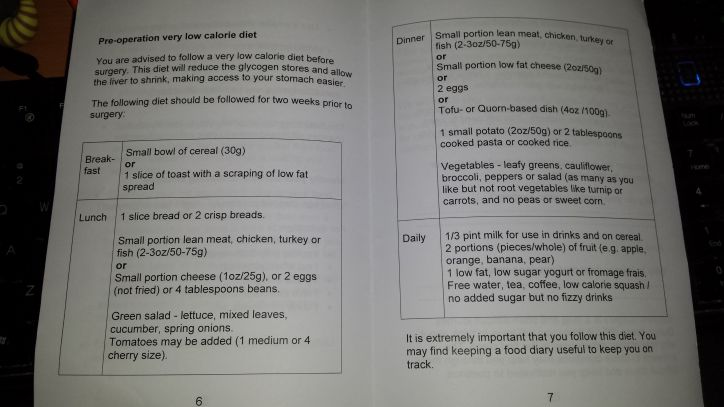 Above is a picture of my booklet showing what food was allowed to be consumed during the dust diet. Upon looking at this, I am fairly certain you would think it was crazy. It does look rather insane, but I was positive that if I was going to go for this surgery, I was going to do the dust diet correctly.
The final meeting
The final meeting was exciting but nerve-racking. Because this was the moment were if we met the criteria of the group we would receive letters with times and dates to visit the various doctors and surgeons. We would also be having an appointment to see the psychologist. The goal was to have a constant weight loss. As long I had a line going down, I would be good. We were also told that the surgeries would be between June and August. It would be another few months of waiting, but it would be worth it.
The dietitians handed letters to everyone who would be put forward for meetings.
I received one of these letter.
I was so excited to see what these meetings had in store.  Little did I know that my first meeting would lead onto something otherworldly.
Now I needed to wait to attend them.
Was this going to be it?