Today was a big day for me. My birthday! I had such a wonderful time today with my community on Twitch and with my partners (and my) family. I am absolutely exhausted from today's activities, however I want to write something to commemorate my big day. Tomorrow I shall be writing up about the traditional 'Dutch' birthday celebrations, but for now I shall talk about the gifts that I received from my wonderful family.
Gifts from my partners family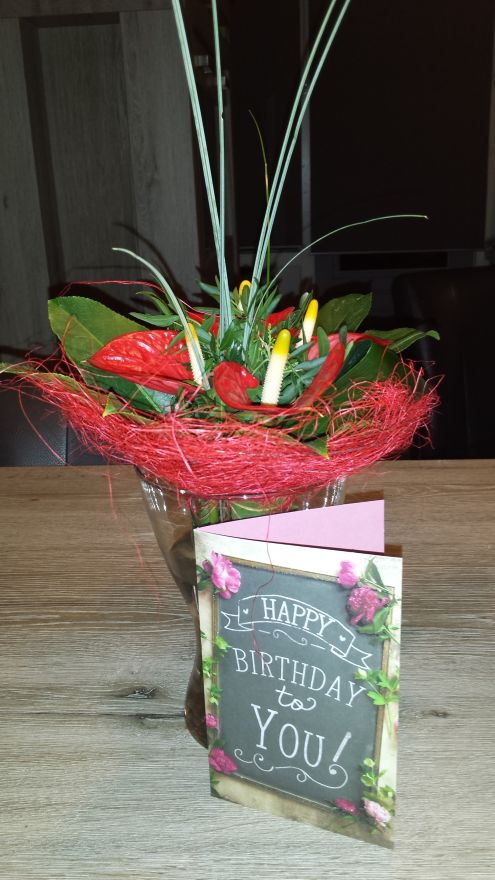 The first gift was from my sister-in-law, her husband and my nieces. A wonderful flower piece with a beautiful card. They came to celebrate in the afternoon with me and my partner and had patat for dinner. Was wonderful seeing them today! Thank you all so much <3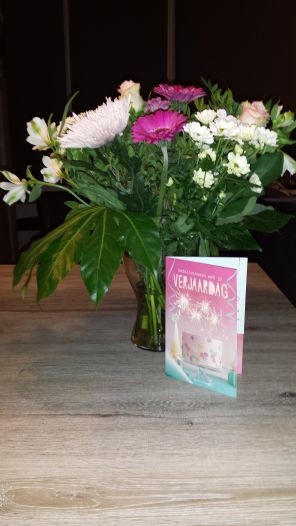 The second was more flowers, beautiful pink and white flowers as well as a card from mama and papa (my partners mother and father who I now call mama and papa. I am sure they love that!) They were beautiful. Thank you both so much for helping me organize the snacks for the evening and for bringing us dinner. Really means the world to me.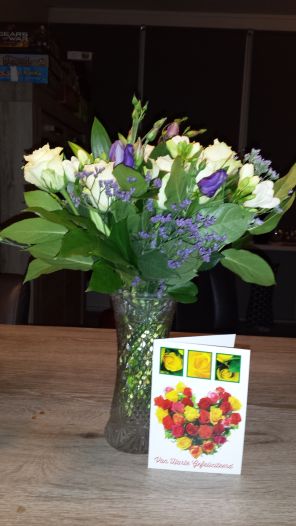 The third was from mama's oma and opa (her mother and father, my gran and grandad). Can you see a pattern here? More flowers! These were wonderful. I ADORE purple in everything! Also a beautiful flower card with a heart! Thank you both so much for coming by tonight, always love to see you.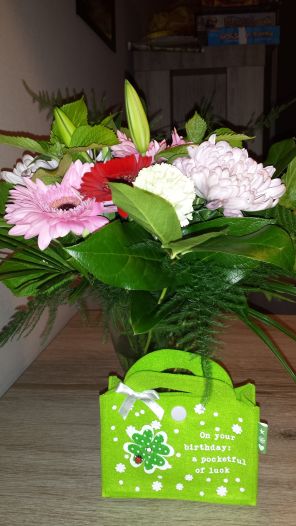 I received more flowers from my partners uncle and partner! These flowers were so massive! Absolutely wonderful. They also gave me an assortment of gifts, including the little satchel that you see in the above picture. When you open it up, it sings! I LOVE gimmicky things like that. Thank you both so much!
I also received from everyone today money gifts, including from papa's oma and opa. I love seeing them so much, and I was over the moon that they were able to make it tonight. Thank you all so much.
Gifts from my mother and the UK
Now these were really special to me. I absolutely love receiving anything from the UK, and especially from my mother. I told her a few things that I would to get from over there that I cannot get from here. She tried her best to get what she could. And oh my goodness, I was so excited and happy when I saw these gifts!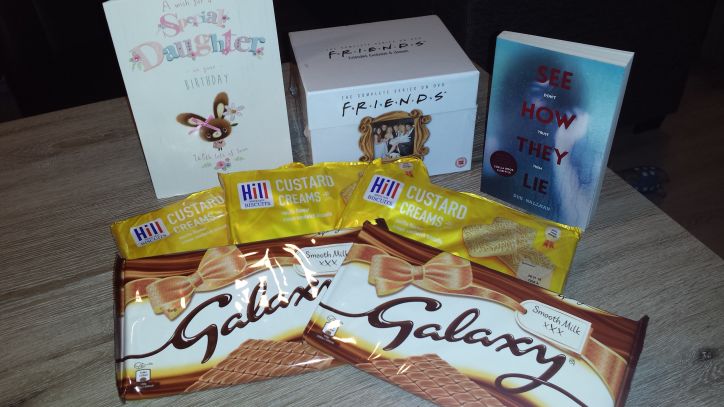 First, she got me a beautiful card. One thing that made me shed a tear about this was that she said gefeliciteerd inside. She is trying to talk Dutch with me and I find that so sweet.
Next, she got me not 1, not 2, but 3 PACKETS OF CUSTARD CREAMS! My mother also gave me 2 massive – and I mean MASSIVE – packets of galaxy chocolate. I saw these and I nearly squealed with excitement. The biggest item she got me was something I have been wanting for ages. She managed to somehow ship it across here from the UK, and I will always be in her debt for this. The friends complete DVD box set! Yes, I know DVD's are old fashioned. I don't care though Super excited about these!
Lastly, she also managed to ship across the box that I won on twitter from @JessHeartsBooks which I am incredibly excited about reading!
I also received money from my father which was very thoughtful. Was also given a wonderful money gift from my auntie and uncle who I adore with all my heart, and I am still waiting for their card to arrive (silly post!) Talking about the post, they still have now delivered a gift that has being sent from my sister. Once that arrives, I will be making a special blog dedicated just to that. My friend has also sent me a book gift that I am SUPER excited about receiving, and I am sure I will let you all know when that arrives.
Gifts from the Partner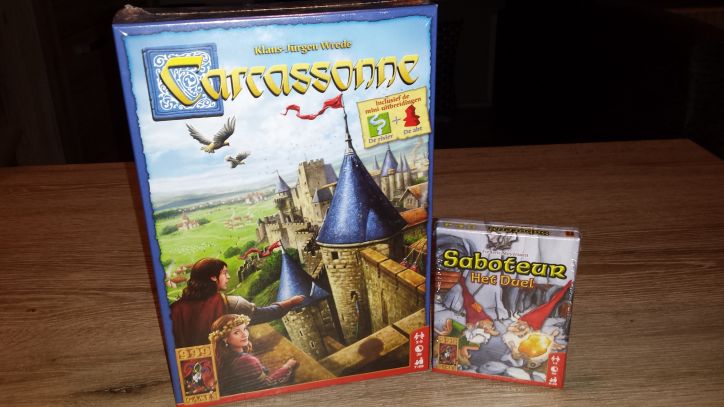 These were gifts I did not expect. My partner picked these up apparently his work today. One of the games he got was one I look at EVERY single time I go into the stores in Winschoten. Saboteur duel is a 2 person version of Saboteur. The game sounds like a good fun game, and I look forward to playing it with him.
The second gift I had no idea. This has been a game on the top of my wishlist for AGES. I have wanted to own a physical copy of Carcassonne for a long time. When he handed me a larger wrapped gift, I did not have a clue. I opened it and was thrilled to see what was inside. THANK YOU SO MUCH MY LOVE. I love forward to playing both of these with you soon. I love you so much.
Random gifts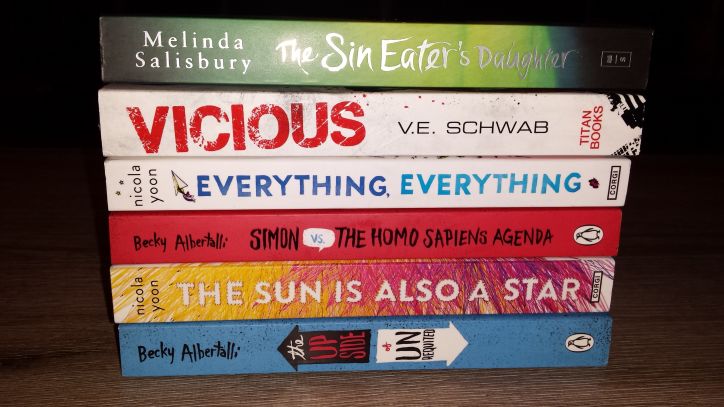 Lastly, I received some books! These were books that I have been looking forward to reading, and I really cannot wait to get into them!
I also received some wonderful tips on my Twitch stream today for my birthday. Thank you all for sharing my special day!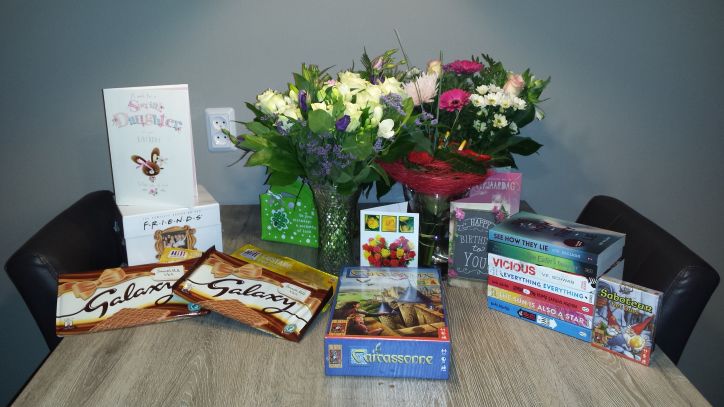 That's it! Today was such a blast. I love being able to celebrate my birthday with everyone that is part of the community on twitch, and with my family and my partners family. Thank you for making today such a joy. I look forward to talking more about the party that I had today which is very traditional in the Netherlands tomorrow.