Slowly going to get back into the swing of things with my book reviews! These have been piling up slowly in my notebook since the beginning of the year (or February, but who's counting?) Finally here is my review for Heir of Fire by Sarah J. Maas!
Heir of Fire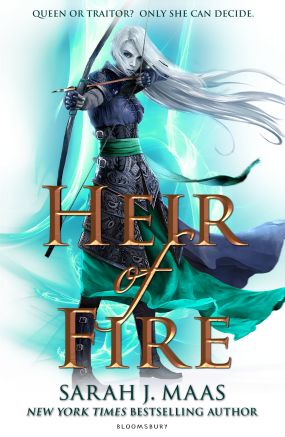 Author: Sarah J. Maas
Pages: 562 (PB)
Genre: Fantasy, Young Adult, Romance
Published: September 11th 2014
---
Blurb
Consumed by guild and rage, Celaena can't bring herself to spill blood for the King of Adarlan. She must fight back…
The Immortal Queen will help her destroy the king – for a price. But as Celaena battles with her darkest memories and her heart breaks for a love that could never last, can she fulfill the bargain and head the almighty court of Terrasen? And who will stand with her?
Thoughts
Where to begin with this book? The series just keeps getting better and better. Just like Crown of Midnight, Heir of Fire brings everything that I loved about the previous books and enhances it.
What I enjoyed the most about Heir of Fire was the introductions to new locations and new characters!
For the locations, oh my goodness where to start. The world in the previous books felt super big. However, the world expanded with this book. Do I think there is more to see? Hell yes!
I loved how Celaenia's story was based from across the seas in Wendyln and eventually near the lands of the fay. The intricacies of these areas she was in was just enthralling and I fell in love with it all. I also adored the expansion of the witch areas and places that belonged to them.
Speaking of which, OH MY GOD  LOVED THE NEW CHARACTERS!
Let's start with Aedion. Without spoiling too much, I loved how he was introduced and how his character progressed throughout the story. I am really looking forward to seeing more of him.
Next there was Manon Blackbeak. She was one of the new main characters to Heir of Fire. Having some of the story come from her point-of-view really shed some light on the brutality of witch living. Seriously, they are fearless. Her story was super interesting and I hope there shall be a lot more of her in the future.
Finally, there is Rowan. What an incredibly wonderful character. Initially I felt the same way about him as I did Chaol. I don't know what it was though but just the way Rowan behaved towards Celaenea throughout the book, it made me hate and love him. His loyalty to her was also super brilliant.
Previous characters progression
As for previous characters, I loved the progression of Chaol and Dorian. Chaol of course still very much in love with someone but could never let it continue. How he started to continue with Celaena's work while sorting through his own problems, the poor thing.
Dorian also had his own problems to deal with. Having to learn to deal with his new-found powers and learning how to control it. I also enjoyed how Dorian started to find some comfort with another person in the castle.
Finally, Celaena. If there was a big milestone for a characters progression, it was her. What an incredibly brilliant way to enhance her already amazing character. She goes through so much crap to emerge victorious and she finally embraces who she really is.
Overall, Heir of Fire was my favorite book so far. It had new locations to fall in love with, character progression left right and center and new faces to either love or hate. It is definitely an incredibly entry to the Throne of Glass series!
Flails out of 5?
Heir of Fire by Sarah J. Maas gets a well deserved 5 out of 5 flails! Read this series. Seriously, it's amazing.