Five Feet Apart
Young Adult, Romance, Contemporary, Fiction
Simon & Schuster Children's UK
January 10th 2019 (First published November 20th 2018)
Paperback
276
Can you love someone you can never touch?
Stella Grant likes to be in control—even though her totally out of control lungs have sent her in and out of the hospital most of her life. At this point, what Stella needs to control most is keeping herself away from anyone or anything that might pass along an infection and jeopardize the possibility of a lung transplant. Six feet apart. No exceptions.
The only thing Will Newman wants to be in control of is getting out of this hospital. He couldn't care less about his treatments, or a fancy new clinical drug trial. Soon, he'll turn eighteen and then he'll be able to unplug all these machines and actually go see the world, not just its hospitals.
Will's exactly what Stella needs to stay away from. If he so much as breathes on Stella she could lose her spot on the transplant list. Either one of them could die. The only way to stay alive is to stay apart. But suddenly six feet doesn't feel like safety. It feels like punishment.
What if they could steal back just a little bit of the space their broken lungs have stolen from them? Would five feet apart really be so dangerous if it stops their hearts from breaking too?
I was very excited to start reading Five Feet Apart from Racheal Lippincott with Mikki Daughtry and Tobias Iaconis. When going into this book, I knew the chances of getting the same feels as The Fault in Our Stars by John Green was really high. Let me tell you, it gave me the feels and made my heart burst.
Five Feet Apart made me feel so many emotions I'm honestly surprised I was able to hold it together in public (I read this book mostly in cafes). The main aspect of Five Feet Apart is people with Cystic Fibrosis, a terminal disease. My really good friend who I play games with had a wife who also had this disease. Reading this book really gave me a glimpse into the life of people who suffer from this illness.
"Everyone in this world is breathing borrowed air."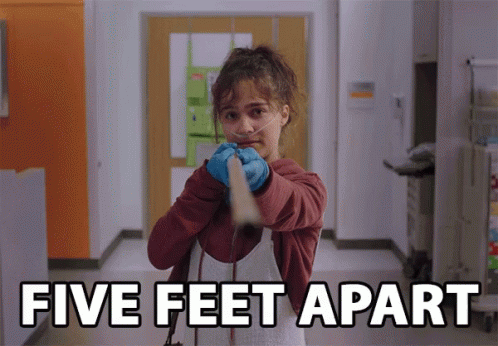 The story follows 2 different points of view. Stella, a girl who has been going to the hospital ever since she was 6 years old. Always keeping her to-do list up-to-date and taking her tablets and health seriously. It's the only thing that she feels like she can have control of, cause CF is something she can't control. Stella can't control how just a sore throat can wind her back in the hospital for a month for observations. With her best friend Poe in the hospital to keep her company, albeit, from a distance, she doesn't feel so alone. At least she has someone that understands what she is going through. Until she meets a boy with a smirk of a smile.
Will can't wait until he is 18. It means he will no longer be under the thumb of his overbearing mother. He wants to see the world outside of the hospitals where he is kept. But having B. cepacia is serious and Will can't risk being outside. But when he runs into a girl who looks like an Angel, Will can't help but want to know her more. At first, Stella thinks him an obnoxious and spoiled brat. But after her helping Will take his medication seriously, dangerous sparks start to fly. Will can't be near another CF person for fear he will infect them. Stella can't be someone with B. cepacia in case she gets removed from the lung replacement list. Can they be together when they can only ever be six feet apart?
"Cystic Fibrosis will steal no more from me."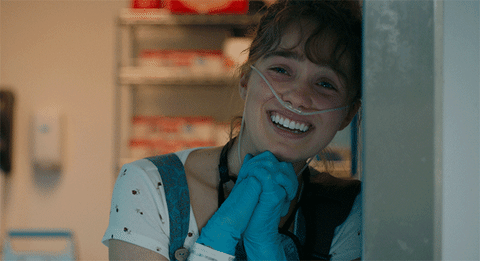 I adore Stella. Despite CF, she lives her life every day as it comes. She is so incredibly smart as well. Being able to build an app that can help people with a chronic illness track their medication, when to take it and all the information that comes with that is an amazing idea. Stella loves having to-do lists because it means she can control what she does and does not do. She is the type of character I feel a lot of people can relate to. On top of everything, she also runs a successful YouTube channel where raises awareness of living with CF. There are several moments during her POVs that made me crack up. A prime example of this would be this line:

"If we're 60 percent water, I'm closing in on the remaining 40 percent being pudding" That girl loves pudding so much it's hilarious!
The friendship that she has with her best friend Poe is also super sweet. The fact that she has someone else that understands what she goes through is great. Because of course, unless you have CF, you have no idea what it is like.
I also love the friendship she has with the nurses in the hospital. Especially with Barb. Barb is pretty much a second mother to Stella and will protect her above all else. She totally spoils Stella with milkshakes and pudding cups and is an absolute bean. But when things get real and danger looms, Barb is 100% hard, but with good reason!
"Every place is different. Every place is unique. It's the hospitals I'm seeing them from that are the same. "
Will had my heart. I always fall hard for the bad boy who is nothing but softies in books. Will is a pure softie with a hard outer shell. As the story progresses, that shell is slowly cracked and we get to see just how caring and lovely Will really is. From the first moment that Will made an appearance in the book, I knew that I would love him. He really gave me the Augustus Waters vibe. Crooked smile and loves living on the edge. From his softer spot, Will is a beautiful soul who loves Stella with all his heart. Even though they could never truly be together, that didn't stop him falling in love with her, hard. His friendship with his best friends Jason and Hope is also wonderful. I'm just a big softie for friendships, okay?
Overall, I absolutely adored Five Feet Apart. It gave me the same feelings I had when I first read The Fault in Our Stars. Super gushy with love and friendship and family. The willingness to live is also so strong. It's the main theme really. Live, see another day. It made me think a lot in fact about mortality and what we do with our life. We really should be living each day to the fullest cause you never know what the next moment will bring.
Would recommend Five Feet Apart for anyone who loves The Fault in Our Stars and other books like Everything, Everything!
"It's just life, Will. It'll be over before we know it."
For more information about CF, have a look at this website.