One of the main vocal points for me during my Scotland holiday was my partners mother and father finally meeting my family. We have been together for nearly 3 years. This trip would be the first official "real life" meeting. Most people would feel nervous about this, however I felt super excited! This blog talks about all of the Family meetings!
I warn you in advance, this is one of the LONGEST blogs I have written. However, I felt the need to write so much because it's about my family and friends. I love them so much and feel the need to write from the heart more than writing from my head.
First meeting my Auntie and Uncle
The first members of my family that my partners mother and father got to meet were my dear Auntie Carol and Uncle John. Since our check in was from 12pm and we arrived at 7:30am, they told us we could go to their house until check in time. It was also arranged that because of this, my uncle would pick us up to take us there. Made our lives super simple!
Once we arrived at their house, I was super excited and overwhelmed with the feeling of being back. My auntie and uncles house really is a second home away from home (the first being my parents home, my old house). We caught up and had cups of tea and exchanged gifts. The neighbor who is a dear friend of the family also popped down to say hi to everyone.
My auntie suggested that since it was lunch time, we could all go up to the local supermarket. They have a really amazing cafe with delicious food. It was down to me to decide, so I chose YES!
Lunch time is best time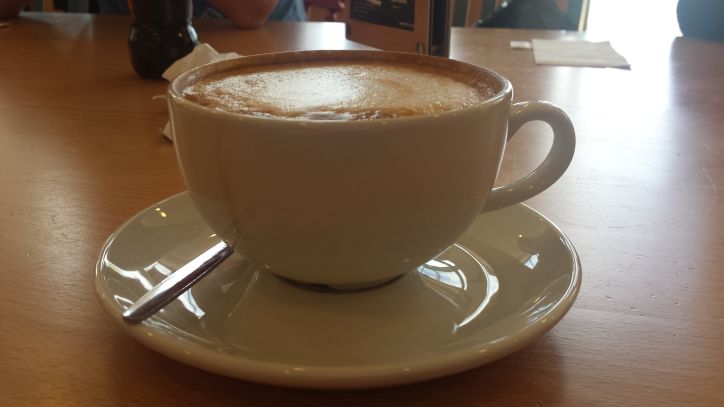 My uncle drove my partner, the parents and myself up to the shop while my auntie and family friend went up on the bus. Before sitting down for lunch, we walked around the shop and picked up some food for breakfasts at the Airbnb just in case there was nothing. This also gave us the chance to catch up with my cousin who works there!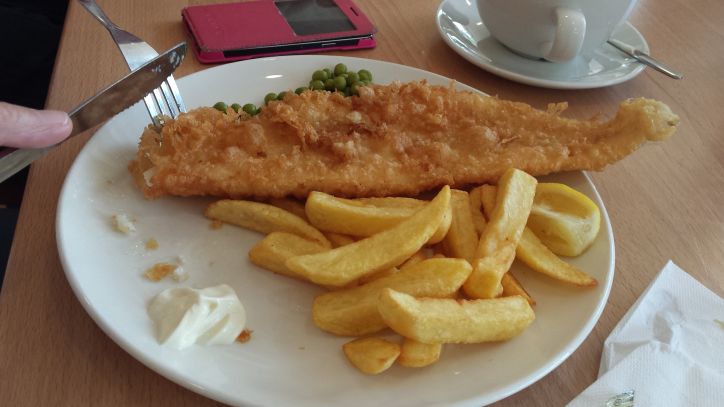 Once everyone arrived, we ordered our food and took a seat. Since I knew I would not handle a larger meal just after travelling, I decided to go with a simple cheese and onion toastie. Of course I got myself a cappuccino too though! My partner, mother and father all got fish and chips. Even though I can't eat this, I have been told that the supermarkets fish and chips are incredible! The food took a little while to arrive which was fine. Gave us more chances to catch up and talk!
As always, the food did not disappoint. I love the toasties from the supermarket and the drink was tasty. Everyone enjoyed themselves which was awesome.
Before we headed off up to the Airbnb, we took a nice photo and said our goodbyes. This would not be the only time we visit my auntie and uncle, however would be the only time the neighbor would be present.
Lunch with my mother
The following day, we planned on meeting up with my mother with a lunch. Since we had no plans for the Friday after attending the Edinburgh Dungeon (which was a last-minute decision), we decided to meet up with her for lunch. I was really looking to this meal not only because it was in one of my favorite locations, but also to see my mum again. For people who aren't aware, this would be the first time seeing my mum in 6 months! That is a long time to be away from someone you love.
After Edinburgh Dungeon (which by the way was INCREDIBLE and you can read about our experience here), we started heading up to meet my mother. The journey would take about 30 to 40 minutes on the bus, but thankfully I brought my kindle to read! Once the bus journey was over, we slowly made our way over to The Buccleuch to eat and drink.
OH MAMMY!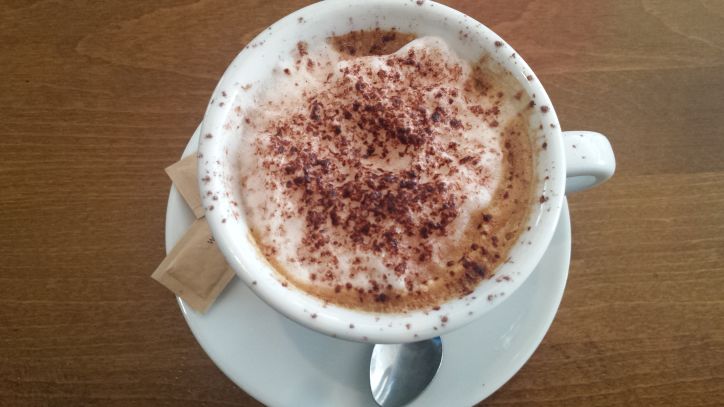 My mum arrived shortly after we finished a delicious cappuccino. She was able to have my sister drive her. This gave me the chance to cuddle her and say hi to her too, which was nice. My partner and myself helped her in with the bags (which were all for me.) Everyone introduced themselves and we all got cozy.
It felt so good seeing my mum again after so long.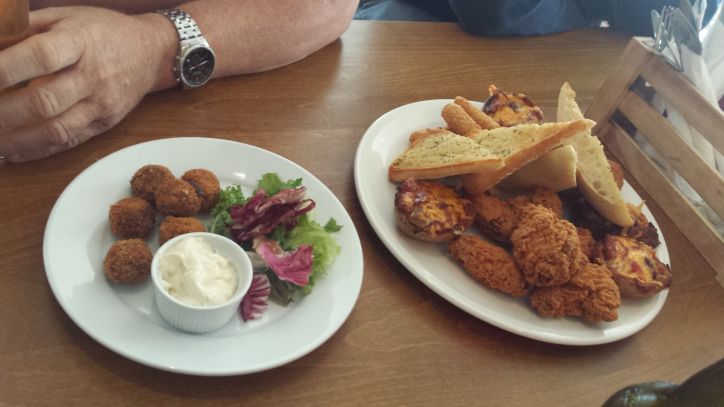 We decided to get a sharing platter for a starter. Alongside this though, we got a plate of haggis bonbons. This would be their first ever experience of this Scottish delicacy! They thought it was okay but probably would not have it again. To be fair, the bonbons are deep-fried and taste pretty different from normal haggis.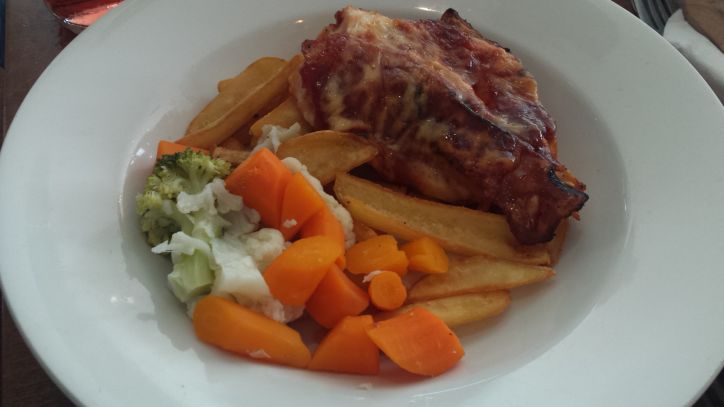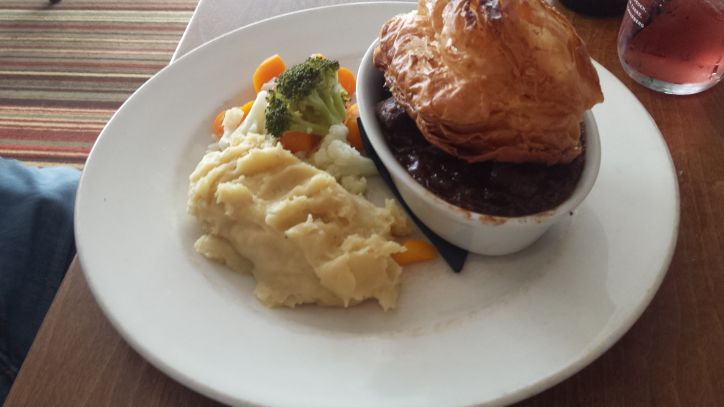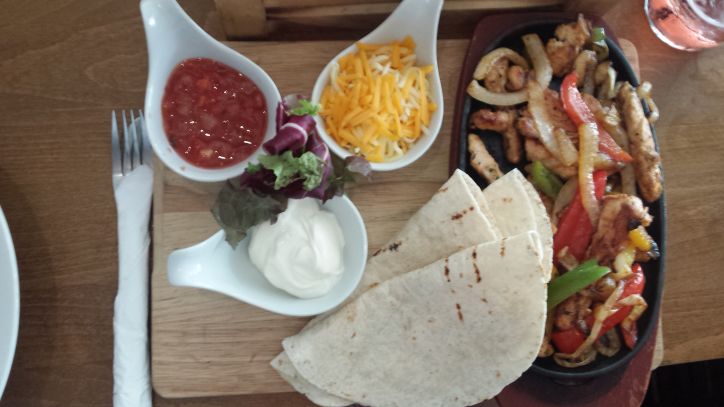 For mains, my partners Mum, Dad and myself got Hunters chicken, my partner a steak and ale pie and my mum some chicken fajitas which looked fab! Everybody enjoyed the food and the conversations.
… I still couldn't get over how much I loved seeing and hugging my mum again.
Once we were done with eating, it was time to sort through the bags.
I didn't realize there were so many!
Another part of this meeting that I was incredibly excited about was seeing all the books I had won over the months. Since I live in the Netherlands now, I can't get every single booked shipped to me. The easy solution for this is to get them shipped to my parents house which they are happy about. However, over the past few months the pile of books grew and before I knew it, I was facing an ultimatum. What books will I fit into my suitcase back?
I could not believe how many books there were. It was kind of ridiculous in a way, but a bookaholics dream! It did make me feel kind of dizzy though. You have NO idea how hard it was to pick and choose what books I brought with me and what books I kept in Scotland. Eventually I managed to sort through everything. I left a bigger box plus some small books with my mother while I brought 2 big bags of books back to the Airbnb.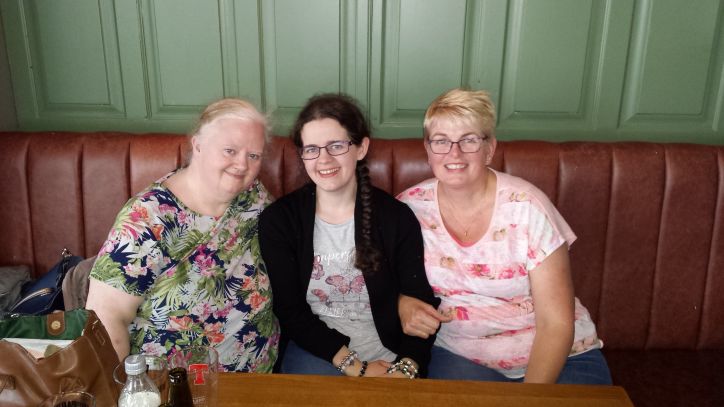 When everything was finished up we took a picture of myself with my mum and my mother-in-law. I loved this picture! When my sister arrived to pick my mother up, we all helped her out. This gave my partners Mum and Dad a chance to say hi to her as well before the following day.
God. It was so good seeing my mum again.
Birthday Dinner
On the Saturday we planned on having a big family dinner with my Mum, Dad and Sister. This was going to be the celebration for their birthdays. My sister was going to have her birthday on the upcoming Wednesday and my mother's on the Sunday. My sister had plans for the Wednesday and we would be leaving on the Thursday. So this dinner would be the big "congratulations" to them!
The journey there was kind of silly though. I thought the journey for lunch was bad enough. The bus journey to the restaurant was 1 HOUR LONG. A long time to read at least!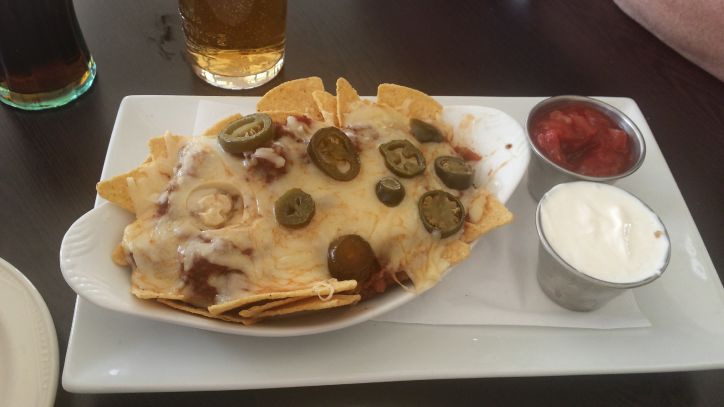 They were all there when we eventually arrived. After the initial introductions, we all took our seats and decided what to have to eat and drink. As soon as I saw it, I KNEW I was going to want it. Haggis, Neeps and Tatties. I told myself at some point during my holiday I wanted to eat this. It was the perfect chance to do so, so I chose it. The four of us decided on sharing 2 starters rather than having separate ones.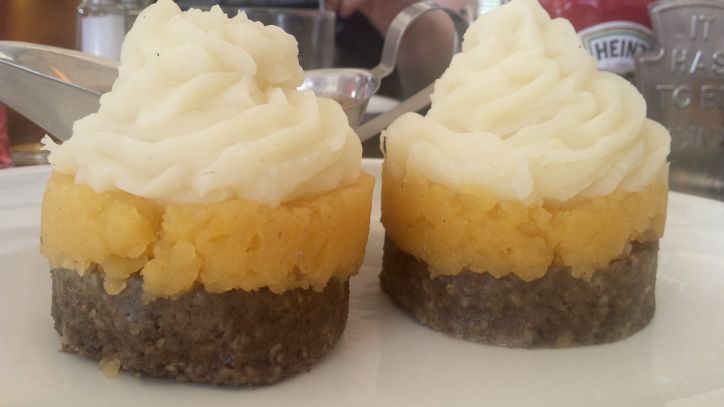 We then all got our starts and oh my goodness every single dish looked delicious. I was very satisfied with the portion size of my haggis and I was very impressed with how much I managed to eat! From a salmon sizzler plate that my partners mother chose to a big mixed grill from my father, everyone really enjoyed the food.
Desserts and birthday cake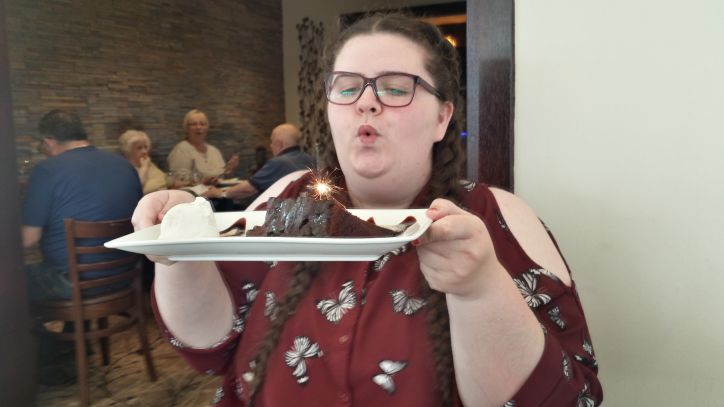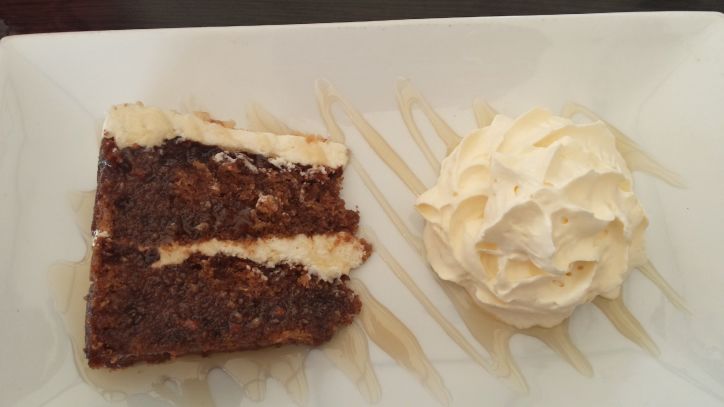 Even though we weren't sure about dessert, everyone got something to wrap up the meal. I decided to get a carrot cake with cream which was incredibly tasty. After eating half of it though, I couldn't stomach anymore which was fine. More for my partner!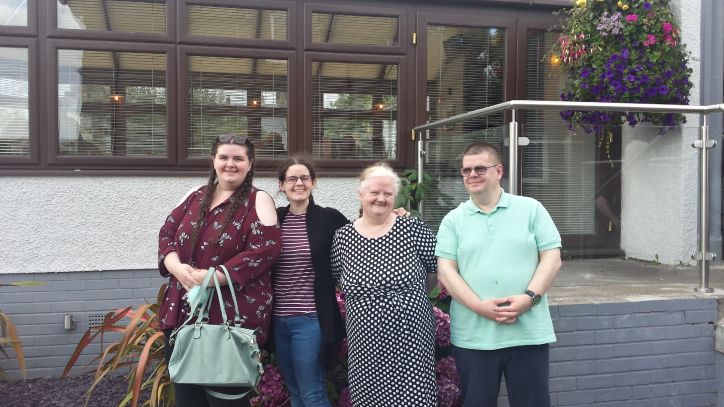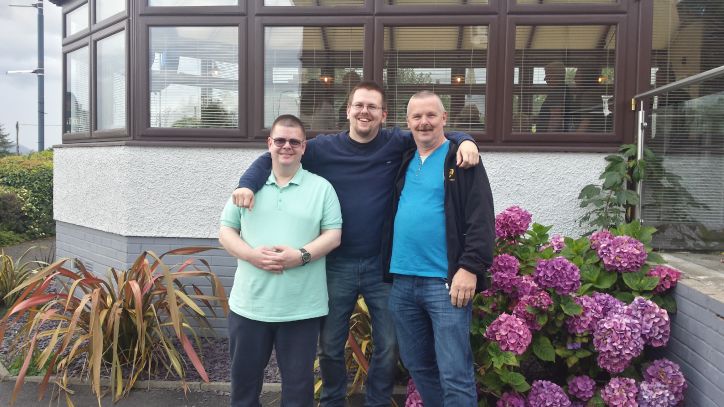 Once everyone was finished, we went outside to take nice pictures together. It felt incredible to finally have pictures of my family and my partners family in one place after so long! Sadly this would be the last time seeing my sister, so we said our farewells with hugs and kisses and said goodbye.
Music at the Pub
On the Sunday, we decided and arranged to meet up with my auntie and uncle once more. My auntie had informed me that there was going to be a live music session at one of the pubs up in the city. She thought it would be a great idea for us to come along to let my partners parents experience traditional Scottish music. I really loved the idea of this so decided to go.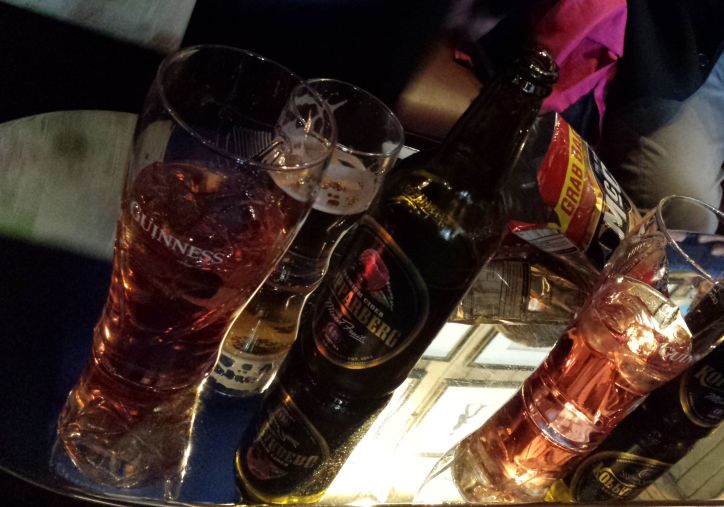 When we arrived at the pub however, there was no music. Sadly there was not going to be music that day due to a comedy show going on upstairs. This did not stop us from going to a place for music though. After a drink or two at this pub, we got in a cab and headed over to a pub I know well – Sandy Bells.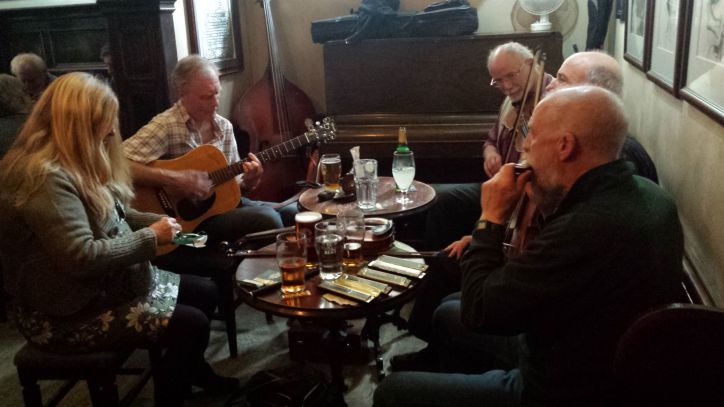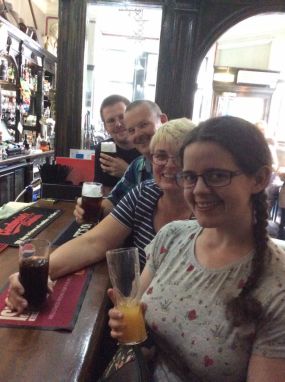 To Sandy Bells!
As I expected, the pub was PACKED with people. It always is. We had to stand for quite some time with a drink until seats started to become available. I know it is pretty traditional to stand in a pub… but I don't particular like to. In fact, I started to feel a little bit claustrophobic being mixed up with all the people. When it started to grow quieter and we managed to get seats, I did start feeling better and was able to enjoy the music. I personally have played in this pub once before with my uncle. We are talking YEARS ago though!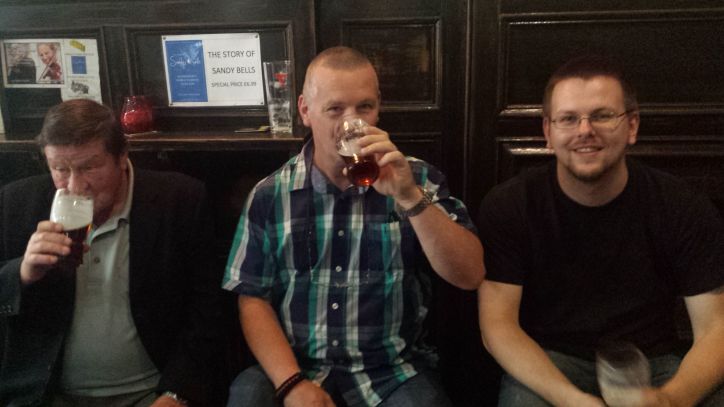 Because it took us so long to get to this pub though, we could only stay for an hour since we had other arrangements (more food!). What was nice though was my cousin managing to come down to see us before we needed to go.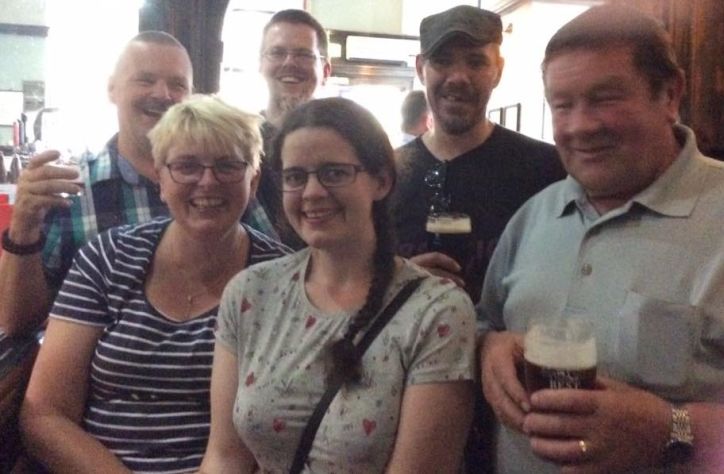 This meeting was going to be last time we see my uncle, so we said our byes. My auntie on the other hand promised to see us at least one more time before we go back home.
Breakfast at Dobbies
Oh Dobbies, how I love you so. I thoroughly enjoy travelling to this garden center not only for plants, but for their cafe. They have AMAZING food. The best thing though about Dobbies is their breakfast. Delicious food, tasty drinks and all around great service. It was here we decided to go for breakfast with my mother and father on the Monday. Just like the meal with my mother, it took us about 30 minutes or so to travel here.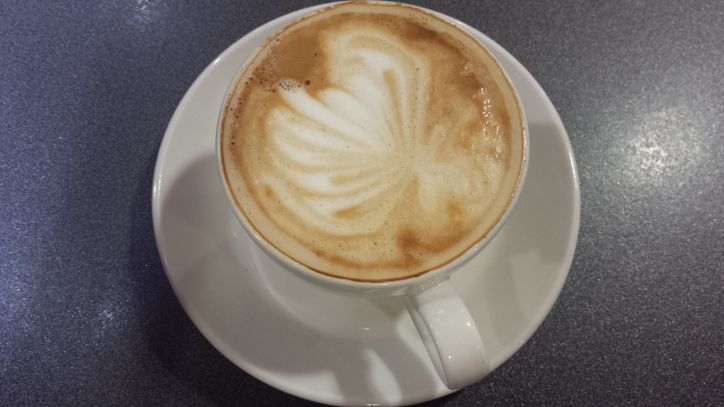 On arrival we got a lovely table and I went to buy us drinks until my parents arrived. I will be honest and say I was slightly nervous though about this meeting. Not only because this was going to be the last time we properly see them, but also I knew they were bringing presents for everyone. I prayed that they were not going to be big things, we were already toiling with stuff in our suitcases!
Delicious food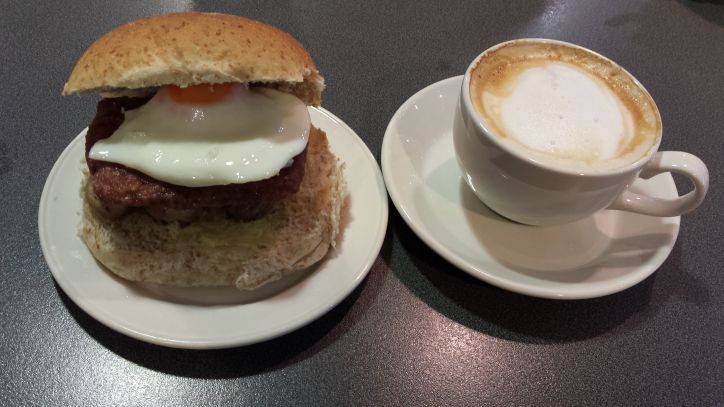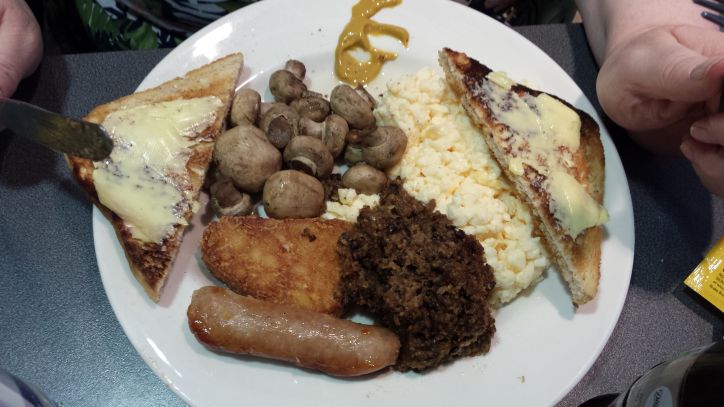 Relief flooded over me when the gifts were small. My mother and father handed out the gifts once they greeted everyone and took their seats. I loved the gifts they got me. The main thing was a Harry Potter hoodie with text on the front. I loved it so much!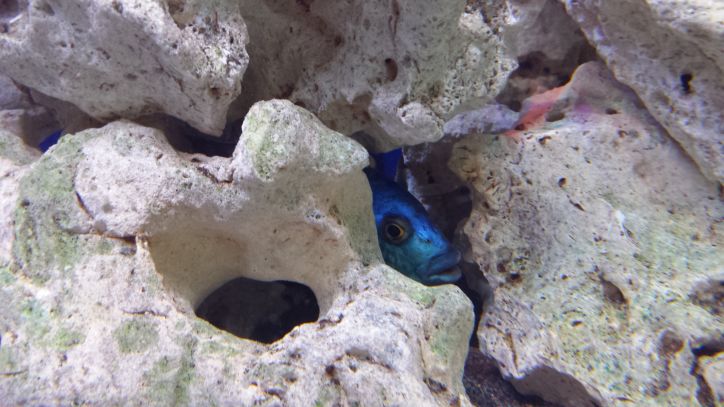 After food, we walked around Dobbies for a while to show them what it was like. Dobbies is the Intratuin of Scotland, a garden center. Even though Dobbies has much more than just garden supplies! The highlight was looking at all the fish. It is my dads favorite place in the center and I feel like him and my partners dad got to talk a lot there.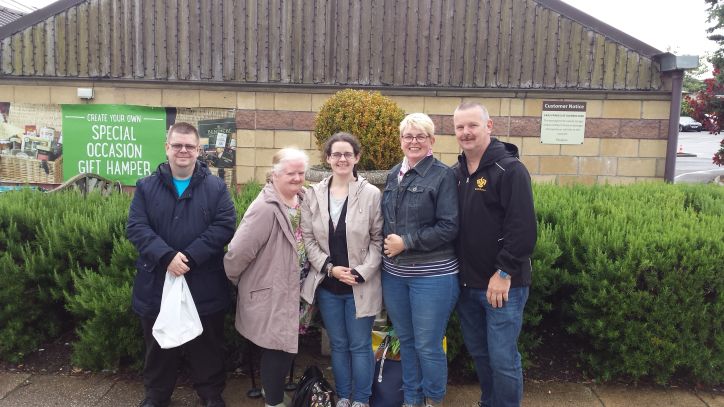 This breakfast at Dobbies would be the last proper time we see my parents. I say proper because we would be possibly "seeing" them the following night at the Edinburgh Tattoo. But this would be the last time proper hugging and talking face to face.
It was tough. But I knew I would be seeing them again at some point in the future.
A quicky with my book bestie
Oh my. I feel like this is a very fitting title for this quick meet up I had with my amazingly good friend Sara. A sucky thing is she moved to Scotland from Denmark probably the same week I started going back and forth between the Netherlands and Scotland. I knew that I NEEDED to see her before leaving. Because she shares my love for books, we decided to meet up in the one place that made sense, our home – Waterstones.
She arrived before us and managed to nab us a good table there. I swear to god, once we arrived and I saw her, I felt SO emotional. You have a love for your family which is unconditional and I felt so happy seeing them. But seeing a dear friend after so long is incredible. Especially one that shares practically every love I have. She GETS me and my love of books!!!!
Scones and drinks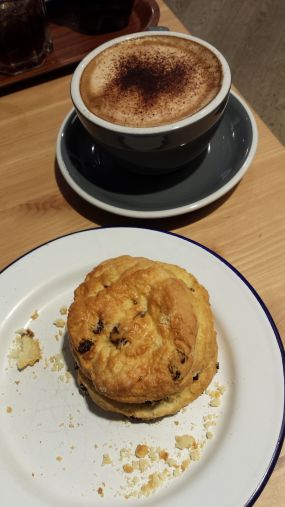 It wasn't going to be a long meet up, just a quick bite to eat for lunch and a catch up. But I feel like we made it last for ages. I didn't complain about that at all! It was so good to catch up with her and squee about books and D&D and all the great things in life.
After food, we walked around the shop and looked at all the pretty books and talked. I was also picking up some books that were waiting for me, and this allowed me to finish the stamp card for her. A finished stamp card in Waterstones means you get a tenner of your next book. Needless to say, she was over the moon. I couldn't be happier to make her smile like that.
The one regret we have was forgetting to take a picture together, but that didn't matter. What mattered is that we managed to see each other, hug and talk. I love her to pieces and I can't wait until I see her again!
Final Waterstones visit with Auntie
As I mentioned before, my auntie insisted that she would see us again before our holiday ended. To make things simple, we planned on meeting up at Waterstones on the final day. This was originally planned by me because I wanted to see my favorite place in the world one more time before flying back home.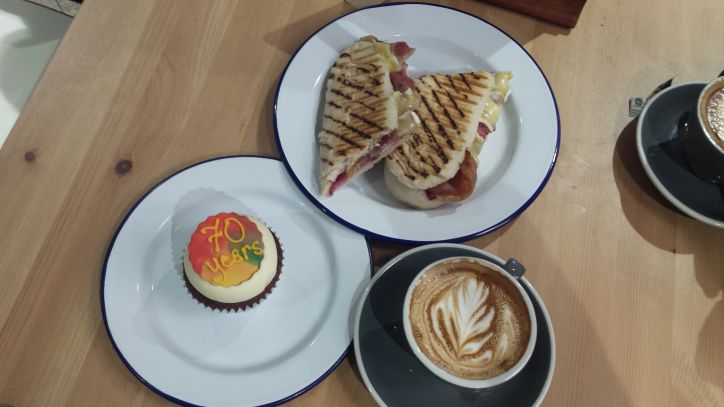 As always, we got our table, food and drink and just talked until my auntie arrived. Once she did we bought her food and drink too. She also brought with her gifts for each of us. Thankfully nothing big again (I was also terrified with my mother giving us gifts!). I seriously loved the gift that she gave my partner and me. Scottish mugs! She knows me so well!
It wasn't a long meeting here, however it was great to see her again. She hopped on the same bus as us on our way to see my Nana, but we said our goodbyes before getting on since it would be awkward while travelling. It was another hard farewell for me to do but like my parents, it was not a goodbye!
Dinner with my Nana and Auntie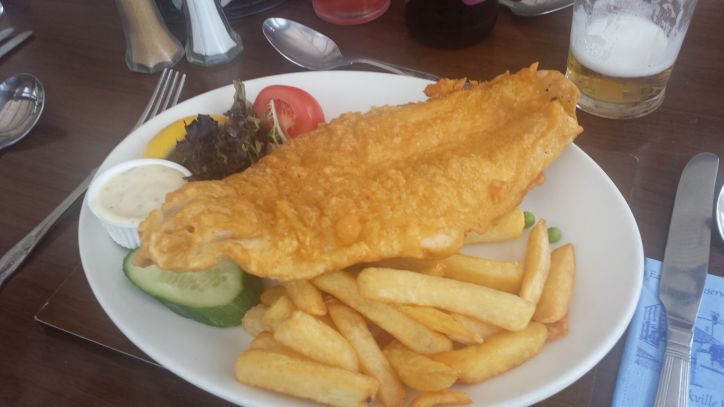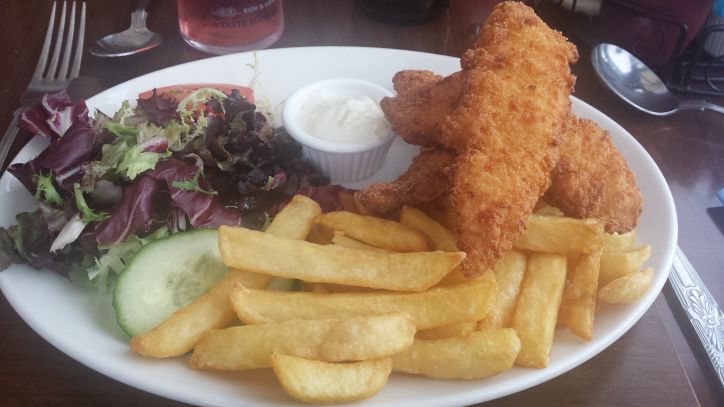 The final family meeting was going to be with my Nana and Auntie. Originally my cousin and her son were going to be joining the meal too, but sadly couldn't make it. They were there upon our arrival. We greeted and hugged each other and took our seats. My partner and me have been here before and knew the food was fantastic. Everybody except me chose the fish and chips while I had chicken goujons. The food as expected was amazing. I couldn't each too much but for what I ate I was impressed, as was my auntie and nana.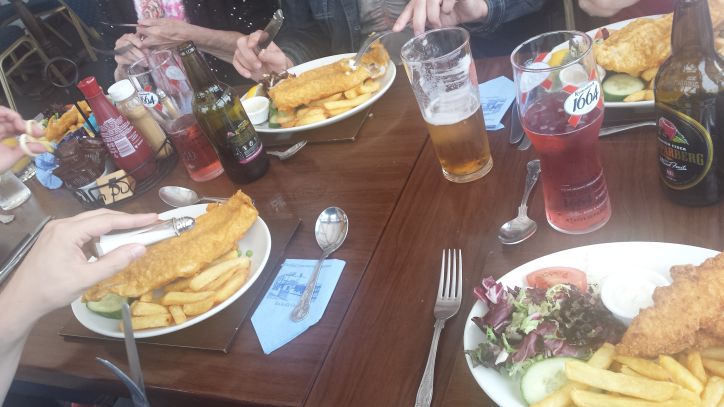 After we finished our food, we had a look at the desserts on offer but we decided on nothing. Instead, my auntie and me got coffees! While we drank, we just talked and caught up on everything. My nana also gave myself and my partners parents which was not expected but were lovely! I really loved seeing them both. There is a special place in my heart for my nana because she is my only living grandparent now.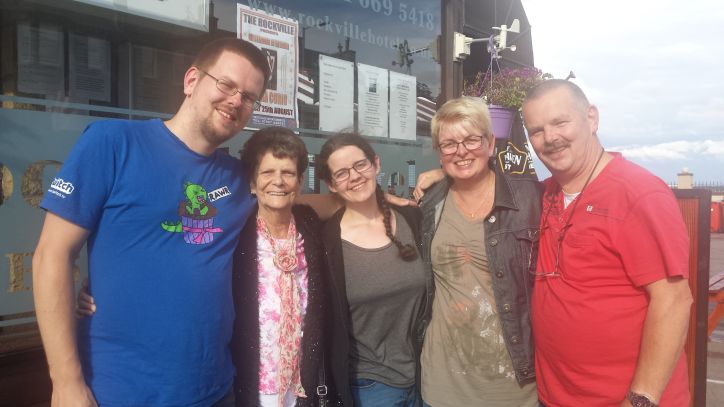 When we finished, we went outside to take some pictures and say our goodbyes.
I love my family and friends
At first, I was worried that I would not be able to see my family and friends that often. I am so happy I managed to have food and drinks with all the people who mean something to me. Every single one of them mean so much to me. There is a blog about how much they mean to me and how hard it is to not be near them all the time, but to be with my partner it's worth it.
They all know they are welcome here anytime, all they need to do is ask. Hell, they can tell me when they want to come and it'll more than likely be a 99.9% chance of a YES COME OVER! Unless my partner and myself have other plans like going to Centre Parcs (i.e. away from home) then the doors are always open!
It was so good seeing everyone after 6 months. I just hope it isn't too long till I can see them again.
It's not a goodbye. It is a see you later. It is never a goodbye.