During the festival, everything goes up in price. That includes the prices for hotels. If we were to stay in a hotel for 1 week, it would have been about £2k a pop, for 2 PEOPLE! Absolute madness. However, I looked up several places to stay through Edinburgh Airbnb. I have used this website on several occasions and have never been disappointed.
At the end of each stay, it is normal to write a review of your stay. So why not a blog about it? Here is my Edinburgh Airbnb review!
On Arrival at the Airbnb
When we finally arrived at our Airbnb flat, I was given clear instructions from the owner – Joseph, about how to obtain the keys. We knew this beforehand, but our flat was situated on the 4th floor. The top floor! This wasn't a concern to us because we are all able to climb stairs. Plus, we would only have to go up once with all our cases and down once, so it was not too bad. This Airbnb let is not ideal for people who have walking/climbing difficulties. Thankfully for us, it was fine.
Once inside the Airbnb, it felt incredibly cozy. When I say cozy, I mean nice and small. To me, this is perfectly normal for a flat in Scotland. But I think for my partners parents it came as a shock. In a way, I actually liked how small it was. It reminded me of what it was like to live in Edinburgh when I was a child. But my flat while growing up had 2 bedrooms. The Airbnb flat just had one.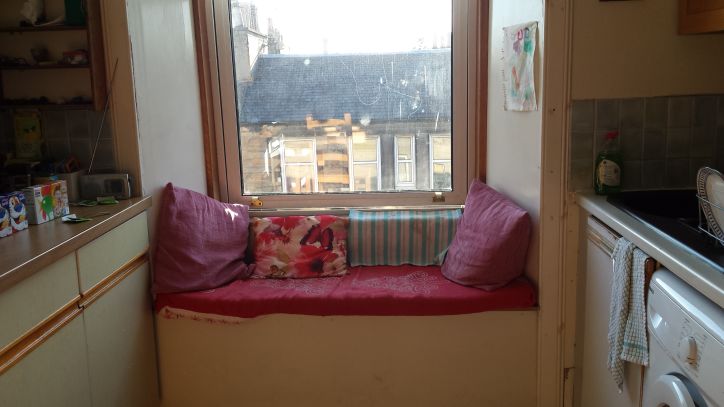 In the kitchen, Joseph left us instructions on how to work everything in the house on the table. The TV and how to watch the movies available, how to set up the couch bed to name some of the instructions listed. Everything was fairly straight forward and easy to use which was great. There was also tea and coffee and milk available for us to use. We were told by Joseph that we were free to use everything available in the flat, including towels etc.
The only slight negative which wasn't really a negative
The only thing that we noticed within the flat that felt off was the bathroom sink. Upon arrival, we noticed that there was a crack within the sink. After contacting Joseph about this, he apologized about not mentioning this beforehand and was sorry for the inconvenience. Honestly though, it did not affect our stay at all. The sink was still in working order except from the crack, and did not get in our way in the slightest. He did not need to apologize for this, even though I can understand why this would be seen as a negative by some people.
Location
Our Airbnb flat was situated in a very good location of Edinburgh. Only a 15 minute bus ride away from the city center and 30-40 minute walk away. For the most part, we took the bus. There was easy access to a supermarket only 5 minutes up the road as well as a variety of shops. This allowed us to buy stuff for breakfasts before heading out for the busy day ahead. The supermarket was also open late at night (10pm) which meant that after a long day out, if we wanted to quickly nip to the shop, we could do before heading back to the flat!
There were plenty of choices of bus routes into the city. There was the bus stuff practically outside the building which had 3 buses available. Down the road and near a McDonalds, there was another bus stop with more bus choices. Which was another good factor – If we wanted to, there were plenty of choices for food near us. A McDonalds, a KFC at the shopping center and a chippy just up the road. Even though we didn't use any of these, the options were there.
Comfort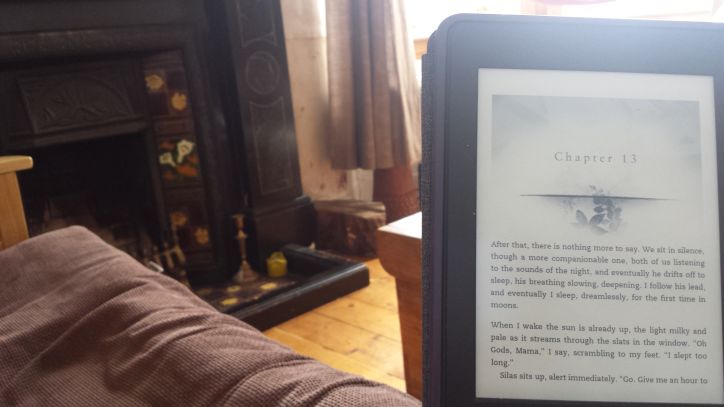 I felt that the comfort level of the flat was high. 3 couches are situated in the living room which provided a great space to read or watch movies on the TV. I also enjoyed sitting on the little seat in the kitchen and looking out over the buildings. It really did feel very homey. I think I would have wanted there to have been slightly more space in the living room to move about in though. With a big coffee table filled with games (which we never had time to use sadly!) and 3 couches, it didn't allow for much movement. Personally, I did not mind it too much since I would just sit on a couch and be happy.
Another note that was brought up by my partner and his parents were the beds. My partner and myself slept in the living room on the pull out couch bed and the parents slept in the bedroom. I think for a week, these beds are absolutely fine. However, they did feel pretty hard and in the morning I would look forward to getting out the bed. I'm not used to sleeping in a wooden bed. My partners parents also felt that their bed was pretty hard. I did not test it out personally, but I know that some beds in Scotland can be classified as hard. At the end of the day, I was satisfied with having a place to sleep together with my partner!
Other points about the Airbnb flat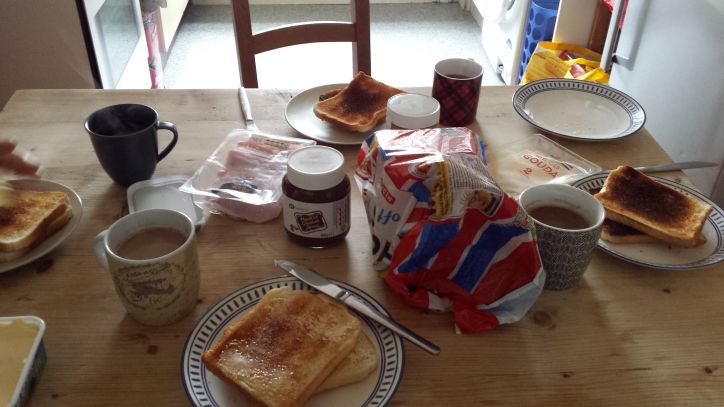 The flat was pretty much what I expected. I was satisfied with how clean the AirBNB was. It wasn't dusty nor was there any dirt anywhere. Nowadays I'm a big clean freak, especially when it comes to dust and my allergies! I felt perfectly fine while staying here. Being on the top floor, the flat does shake when big lorries/buses go past but this is normal with vibrations. I know that this would not be ideal for some people, but it didn't affect us at all. In fact, we thought it pretty funny!
The communication with Joseph was great. He gave me clear instructions about how to obtain the keys into the flat and answered any question that I asked. He made the stay great. I only wish we were able to meet him to thank him personally!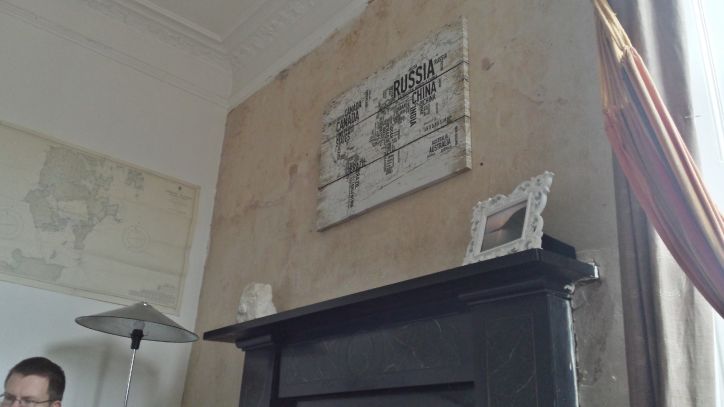 Compared to pictures on Airbnb, I think the flat may be considered smaller than shown. But I think pictures will never show the true essence of a place! They will give you the general idea sure, but you won't know until you're there.
Overall thoughts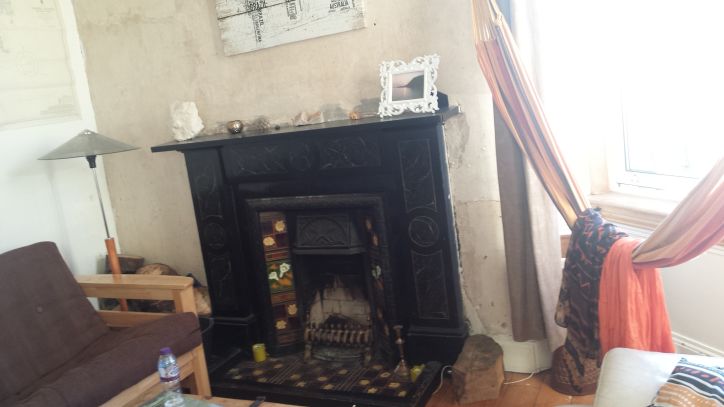 Overall, I really enjoyed my stay at Joseph's Airbnb flat. It provided a good living space for my partner, his parents and myself for a week during the Edinburgh Festival. I enjoyed watching a wide variety of movies that were available and having breakfast in the morning in the kitchen. To me, the flat was picture perfect. I loved taking pictures of the fireplace and the hammock.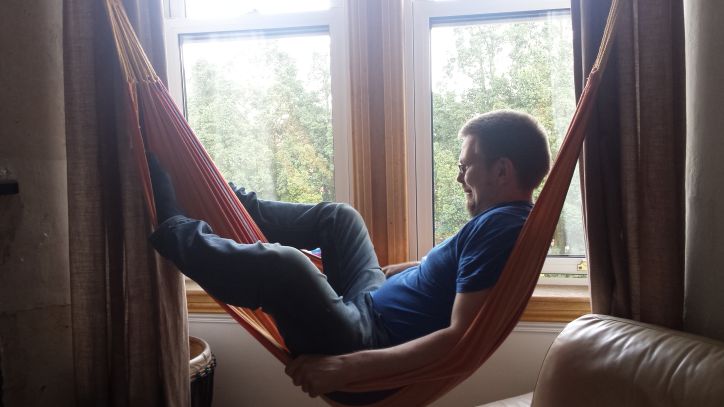 Oh, did I mention there was a FREAKING HAMMOCK? Yes, I needed to try this at least once. My partner tried it too and I could not stop laughing.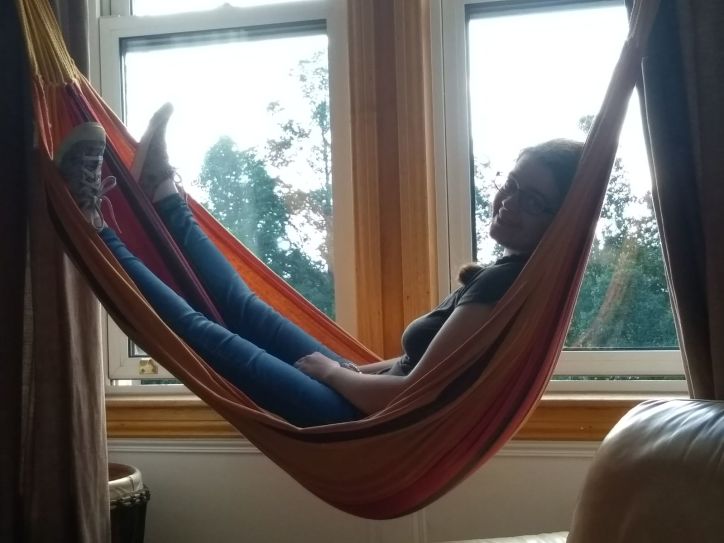 I would recommend Josephs flat to anyone who wants a home-away-from-home flat. An incredibly welcoming atmosphere with a wide variety of amenities.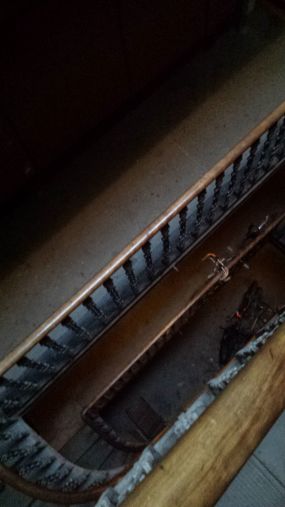 Only negative is that it is not ideal for people who cannot walk up 4 flights of stairs. There is no lift available in the flat block so walking is necessary.
Are you interested in checking out Josephs Airbnb? Follow the following link and check out when it is available!
Views, Hammock, Sofa Bed, Open Fire
Have you used Airbnb before? Let me know your experiences in the comments below!