Today my partner was out for the evening with his work to have dinner. This happens on such a rare occasion. Whenever it does happen though, I need to decide what to have for dinner by myself. Here lies the problem – eating dinner by myself. It's such a weird concept to me because I hardly EVER have to. So I want to ramble on a little bit about how I feel whenever I need to prepare a dinner for one.
It is a very odd feeling.
It is not like I do not eat meals by myself. I always have lunch by myself every weekday while he is at work. But for me it is different when it comes to dinner. Dinner nowadays has always been about sitting down with family or partner and talking about the day. Everyday (except perhaps on a Sunday when we have Patat Zondag), I will prepare and serve dinner for two. I can make either a simple meal consisting of chicken, potatoes and veggies or something more exciting like cottage pie. I love to cook for more than myself. When it comes to cooking for one, I get confused. Not because of the amount of food I need to prepare has been reduced (by A LOT for me!) I get confused because I really have no idea what to eat by myself.
Usually when I cook for myself and the partner, I cook enough food to fill up 2 people. However, I can only ever eat half of what I prepare for myself because I can't eat that much. This just gives my partner extra food which he is more than happy to finish off if he wants more. No wasted food hype! But when I'm cooking for myself, what then? Do I cook enough food for one person, or less? I DON'T KNOW. It is such a bizarre feeling.
I know that my partners family who live nearby would be absolutely fine with me if I wanted to have dinner with them. However, when I have the chance to eat dinner on my own, I will take it. I have never lived in a house by myself before, only with my family or a room mate. That means I have never had the proper 'completely on your own eating dinner alone' experience. I know that people do it everyday and it is normal. Of course I have had dinner before by myself many times in the past, but since being with my partner.. not so much. So it is a weird concept to me.
Planning dinner for one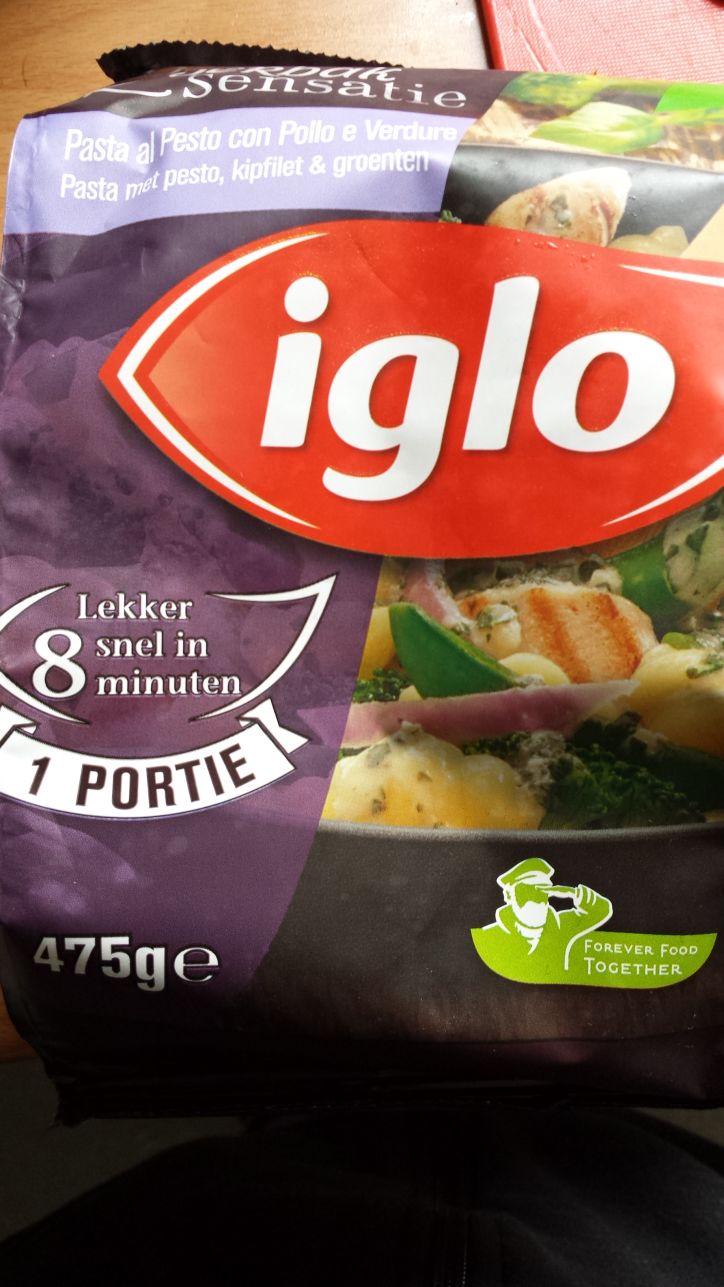 Having to plan dinner for myself is such a rare occurrence. I never know what to have. I tend to think of different foods that I would not mind disposing of after I am done. These usually end up being cheap foods for example different types of pasta or rice. I also don't mind making maybe a simple 1 person microwave meal / pot meal. Eating dinner by myself is so rare that I hardly ever need to have a microwave meal (which is good, they tend to taste like paper!) I think since living in the Netherlands, I've only ever had 2 microwave meals.
However on this occasion, I opted for a simple one pan quick cook pasta with pesto and chicken. All that I needed to add was a few tablespoons of water and cook for 8 minutes. Easy! I have had one of these simple pasta dishes before which I shared with my partner alongside some bread. For me though, the pasta on its on was plenty. Super filling.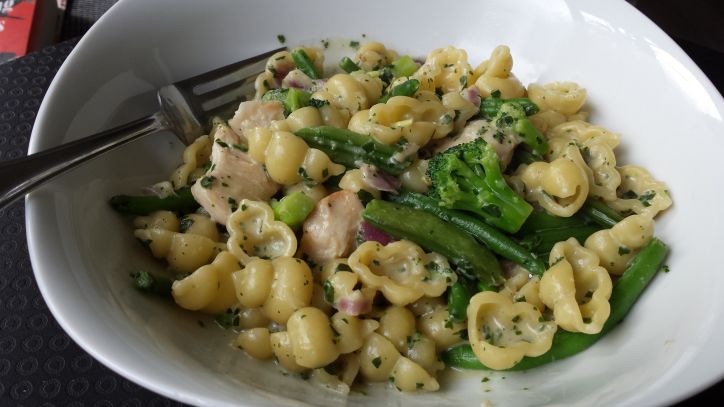 After finishing my pasta, I decided to eat a little bit of dessert also. Usually I do not have dessert after dinner because I am usually full, but I felt like I could possibly manage a wee dessert for a special treat. So, I grabbed myself a spoon and put some delicious blackberry cheesecake ice cream into a bowl and chowed down. It was super tasty, but alas I could not eat it all because holy smokes it was super sweet. Ah well, regardless of how sweet it was, it was amazing!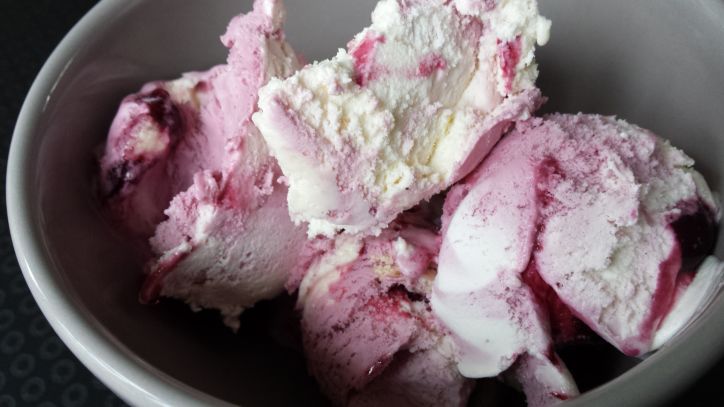 Now… I have the house to myself for the evening. Now what?
I could do anything. Relax and read a book. Tidy up things in the house to make everything nice and clean. Have a nap. But no, I decide to do none of these right away. I decide that I have no self control and I bake. A week today is my birthday (which I talk about here) I plan on baking certain items for the party in the evening. Recently I have had the craving to bake carrot cake. I've never made this before and I adore it. What better way to spend an evening than perfecting little cupcakes of carrot cake goodness.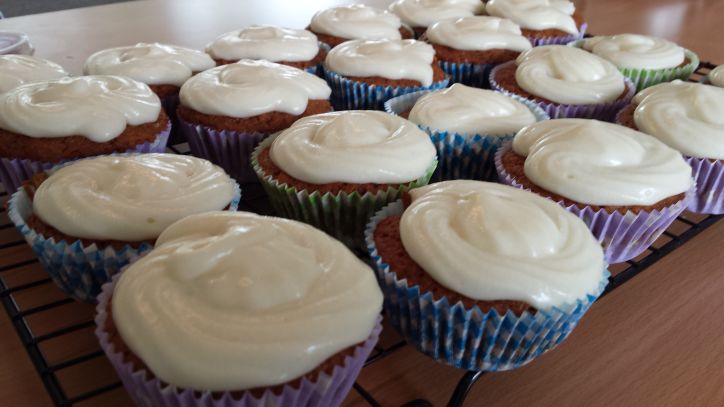 I will write about how I prepared and baked these at a later time, but for now have a wonderful picture. These were really simple to make and the cream cheese frosting on top was delicious!
I also got a decent amount of reading in too. I managed to read a fair chunk of A Gathering of Shadows which I should finish either tonight in bed or tomorrow. It is such a good book oh my goodness and I cannot wait to post a review of it soon!
Have you ever had the experience of eating alone when it is not normal for you? How did you choose what food to have? Or whenever you have the house/flat to yourself, what do you do? Another question that I am curious about – If you live on your own, what is it like? How do you decide what food to buy etc? Let me know!