I absolutely adore cottage pie. There are always debates that happen between a Cottage pie and a Shepard's pie. It's pretty simple. A shepard's pie contains lamb mince. A cottage pie contains beef mince. Whenever I have extra potatoes and mince in the house, I will always try to make this hearty dish. Here is what you will need to make my style of cottage pie! My cottage pie has a special layer of carrots mash, alongside peas and carrots in the mince mixture and a creamy cheesy mash. Yum!
The ingredients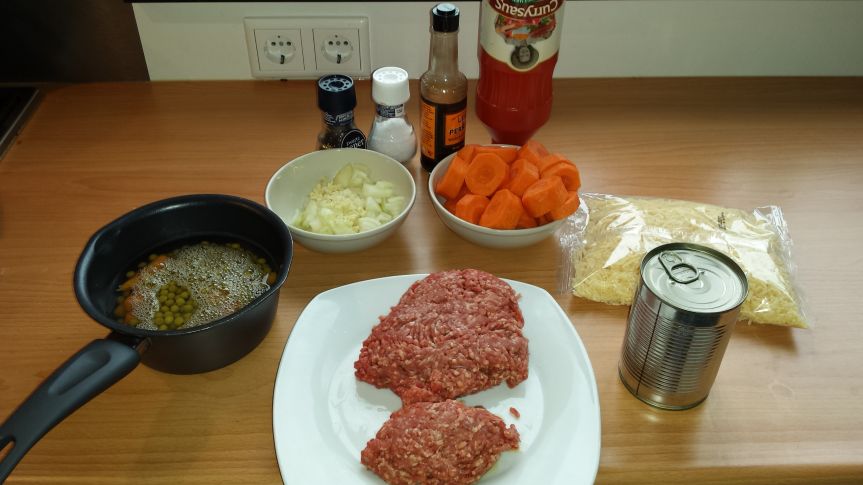 500g Beef mince
(However using half and half is fine, I have made it with both before) 
1 onion peeled and diced
2 carrots peeled and sliced
1 garlic clove minced
500g potatoes
1 tbsp Worchestershire sauce
1 tin of chopped tomatoes
(whole tomatoes also work, if not better) 
1 tbps tomato puree
(or you can also use ketchup or in the Netherlands Currysaus) 
2 tbsp flour
500ml beef stock
(or 1 beef stock cube and 500ml water) 
Peas and Carrots
(Can either be from a jar or fresh or frozen) 
A few handfuls of cheese
(roughly about 200g, but it's to your own personal taste!) 
Salt and Pepper to taste
Method – The cooking
Pre-heat the oven to 180 degrees C (350 degrees F)

Potatoes top, Carrots bottom

Boil the carrots and potatoes in separate pots until tender to the touch and mashable, about 20 – 25 minutes.

Beef mince in the pan

Add 1 tbsp of oil into the pan an start frying the mince until lightly browned. Drain any extra liquid off.

Onion added to the beef mince

Add onions and cook until softened, about 5 minutes. The mince should be cooked through by this time. (At the same time, start to boil the carrots and peas in a small saucepan, about 5-10 minutes)

Beef stock mixing action!

Add the minced garlic and flour, and cook for a few minutes until the flour is fully encorporated into the mixture. Add the beef stock cube and slowly add the water (or slowly add the ready made beefstock)

Tomatoes bathing with the mince.

Pour the diced (or whole) tomatoes into the mixture and heat through. About 2-4 minutes. Add 1 tbsp Worchestershire sauce and tomato puree (or ketchup saus) also.

Carrots and peas join the party

Drain the peas and carrots from the small pot, and add them to the beef mince mixture, and stir through. Set to one side.

Cheesy mash!

Drain the potatoes and leave to dry for 2-3 minutes. Mash them thoroughly. Add a knob of butter and a glug of milk (about 1/3 of a cup, but less is okay) and mash through. While the potato mash is still hot, add the cheese and mash until melted through. Set to the side.

Cheesy… wait. Carrot Mash!

Mash the carrots until they have the consistency of potato mash. Set to one side.


The Assembly

Step one – mince in ovenproof dish.

In a large oven dish, pour the beef mince mixture out, making sure it's evenly spread out.

Step two – Carrot Mash over mince

Spoon the carrot mash over the mince, and gently spread over the top.

Step three – potato mash on top!

Spoon out the potato mash over the carrots and mince, and gently spread out. To give the cottage pie the 'authentic' look, use a fork to score the top, to make the top look like fields!

Optional: Cheese on top of mash

Optional: Spread a layer of cheese over the top of the mash. This gives a lovely crusty top!

Let the cooking begin!

Place the dish into oven and cook for 25-30 until the top is golden.

Beautiful cottage pie

Serve immediately. Enjoy!
Final Thoughts and tips
I prepare and make my cottage pie for quick serving. However, you can also bring the mince mixture once everything is in the pan to a low boil and let simmer for 30 minutes, topping with water if the liquid becomes too thick.
If putting cheese on top, you can also shove the oven into grill mode and place the dish on the top wrack to let crisp up further, usually takes about 5 minutes.
I really do enjoy cottage pie. It's so filling and it's lovely for left overs the next day. Usually I just have a portion of cottage pie on it's own for dinner, however adding chips or a side salad is a lovely addition to the meal.
Have you ever had cottage pie before? If you try out this recipe, let me know how you get on!