Children of Blood and Bone
Legacy of Orïsha
Fantasy, Young Adult, Fiction
Henry Holt Books for Young Readers
March 6th 2018
Paperback
531
They killed my mother.
They took our magic.
They tried to bury us.
Now we rise.
Zélie Adebola remembers when the soil of Orïsha hummed with magic. Burners ignited flames, Tiders beckoned waves, and Zélie's Reaper mother summoned forth souls.
But everything changed the night magic disappeared. Under the orders of a ruthless king, maji were killed, leaving Zélie without a mother and her people without hope.
Now Zélie has one chance to bring back magic and strike against the monarchy. With the help of a rogue princess, Zélie must outwit and outrun the crown prince, who is hell-bent on eradicating magic for good.
Danger lurks in Orïsha, where snow leoponaires prowl and vengeful spirits wait in the waters. Yet the greatest danger may be Zélie herself as she struggles to control her powers and her growing feelings for an enemy.
Why did I leave this book for so long?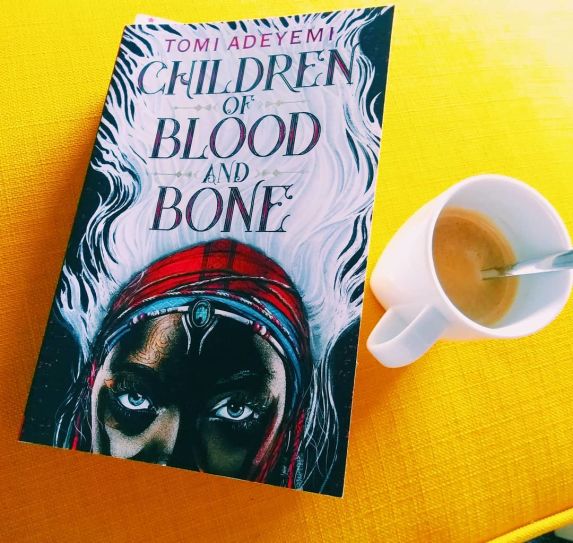 Holy hell what an incredible book. Beautifully detailed and every page draws you further into the story. Children of Blood and Bone shocked me to my very core. Considering this is a debut book by Tomi Adeyemi, I am shook. That's the best way to describe how I feel about this book.
The world of Children of Blood and Bone is so incredibly detailed and magically intertwined with everything. You are brought into the vast world and it's so visually pleasing. The plot is super fast-paced and it continues to grow and grow until is crescendoes into a powerful ending that will leave you yearning for me. The magic elements are bloody fantastic. I really hope to learn more about them in the second book. Finally, the characters are outstanding and every single one of them brings vital story elements. Holy hell. I am seriously at a loss for how much I love this book.
"Reality told us we would fail. But again and again, we fought. We preserved. We rose."
The story mainly follows Zélie Adebola. She is a Divîner, and during the time when magic was alive, she would have gained her powers upon turning the age of 13. However, magic died within Orïsha and the king put to death all Divîner's that posed a threat to the throne. This included Zélie's mother. But one fateful day, she stumbles upon the princess, Amari. With her, they are thrown into an unthinkable mission. After seeing her best friend killed brutally by her father, Amari steals an item that holds the key to bringing magic back to the world. Zélie, Amari and her brother Tzain go against all odds to bring back the power that Divîner's lost. But they are not alone. Amari's brother, Inan, the next ruler of Orïsha is on their tracks with one goal – Kill the girl, kill the magic.
"No matter how much I crave peace, the gods have other plans."
Zélie is such a fantastic character. She is the sort of protagonist I long to read about. She is a badass through and through and I adore her. Zélie has so much emotion and trauma that she deals with. Despite that, she continues on her journey with her brother and Amari to get the job done. Her character progresses throughout Children of Blood and Bone is simply stunning. She is so bloody strong and I LOVE that. Everything about Zélie screams fierce!
Amari is another character I genuinely enjoyed. At first, she was a timid little princess who grieves for her Divîner friend. As the plot thickens, however, she grows into this incredibly powerful ally for Zélie and Tzain. Her friendship with Zélie is also SO heartwarming. At the start of their friendship, there was hatred towards Amari for who she is. The daughter of the man who killed Zélie's mother. But after going through the jungles and fighting to survive, their friendship blossoms into an unbreakable bond. I loved them and their friendship! The relationship between Amari and Tzain is also so adorable and there is a particular moment within the book that made me feel happy. I really hope we see more of them in the next book!
"Duty Before Self. Kingdom Before King."
Inan, the prince of Orïsha, is a character who I felt so strongly towards. He has his honor to the crown and family. One of the things I loved about Inan is his little triggers. How he counts slowly up to 10 to focus and how he constantly reminds himself of his task. His love for his sister is also genuinely touching. Oh my gosh. The struggles he faces between duty and his heart. How Inan pushes forward to reach his goals, even though it may kill him. I love him so. I also shipped him and Zélie so hard my heart was gushing!
Overall, Children of Blood and Bone is UNBELIEVABLY GOOD. This fantasy book is one that you will not want to miss. Beautifully lyrical, the writing will keep you hooked. Although the book is big, you will find yourself rushing through it. I know at first I was intimidated by the size, but I finished the book in only a few days!