I have never made carrot cake before which surprises me. I absolutely love how light and flavorful carrot cakes can be. The icing on a carrot cake is also one of my favorite parts (even though I can't eat too much of that, super sweet!) My partner and me will occasionally buy carrot cake from the supermarket and have a little slice  along with some tea or coffee in the evening. A really nice to treat to round off the day. After doing some research into what makes a wonderful carrot cake, I decided to give it a try!
I opted for making carrot cake cupcakes rather than a full loaf so it was easy to share among family and my partners work colleagues. I will share what ingredients are required and how to create these delicious carrot cake cupcakes!
The Ingredients

For the Carrot cake cupcake:
4-5 medium sized carrots, peeled and grated.
1 and 3/4 cups of wholewheat flour
1 cup light brown sugar
2 teaspoons ground cinnamon
Pinch of ground nutmeg
1 and half teaspoons baking powder
Half teaspoon baking soda
3/4 teaspoon salt
Half cup honey
3/4 cup melted butter
2 medium eggs
1 teaspoon vanilla
For the cream cheese frosting:

Half a packet of cream cheese (about 115g)
Quarter cup greek yoghurt
2 tablespoons soft butter
1/2 teaspoon vanila
1/4 teaspoon almond extract
Pinch salt
4 cups powdered sugar
Method for Carrot Cake cupcake 1.
Pre-heat the oven to 180 degrees celcius (or 350 degrees F)
If not already prepared, peel the carrots and grate them. I don't have a food processor so I just grated by hand but if you have a food processor you can use that instead (will make your life SO much easier!)
Mix all of the dry ingredients together using a whisk (Flour, cinnamon, sugar, nutmeg, baking powder and baking soda) and set to the side.

Mix together all your wet ingredients and stir to combine, making sure the honey is scraped up from the bottom.

Pour the wet ingredients into the dry ingredients, and stir to combine.

Finally add the grated carrots into the mixture and fold in until fully incorporated into the mixture.

I find that using an ice cream scoop makes this part super easy. Into muffin/cupcake trays lined with cupcake/muffin liners, scoop in the carrot cake mixture 3/4 of the way up.
Place in the oven and cook for 20-25 minutes until a skewer can come out the cupcake clean.
Once cooked, take the cupcakes out of the cupcake tray and stand on a wire rack until cool before decorating with the frosting.
Method for cream cheese frosting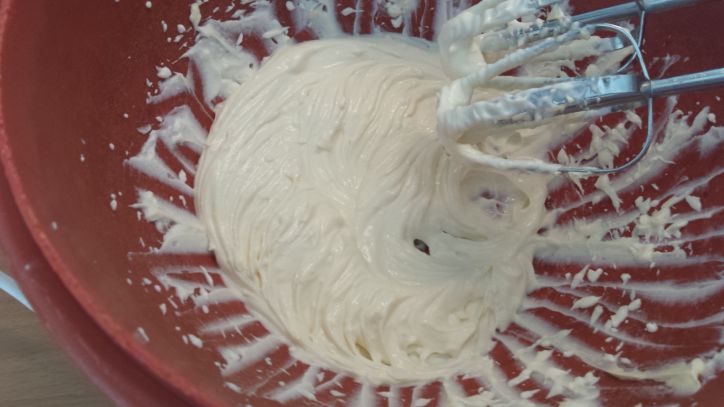 Put all the ingredients bar the powdered sugar into a mixing bowl and mix together with an electric mixer.
Add half of the powdered sugar into the bowl and mix together. A good tip here is to place a tea towel over your mixer bowl and mix. This means that less powdered sugar will fly everywhere!
Add the remaining powdered sugar and repeat step 2 until fully combined.

Put the cream cheese frosting into a piping bag and decorate the cupcakes.
Place the finished cupcakes into the fridge to chill. Finished!
Overall thoughts
I. LOVED. BAKING. THESE. CUPCAKES. They were super simple to create, and came out so well. I was really proud of myself. They tasted super light and filled with flavor, just like the ones the partner and myself usually buy. These were probably even better! One of my plans is to recreate these for my birthday next week for the family when they come around for the birthday party. I am fairly certain I will make the cupcakes again, but I may also be tempted to make just a loaf too. I will wait and see what I am in the mood for!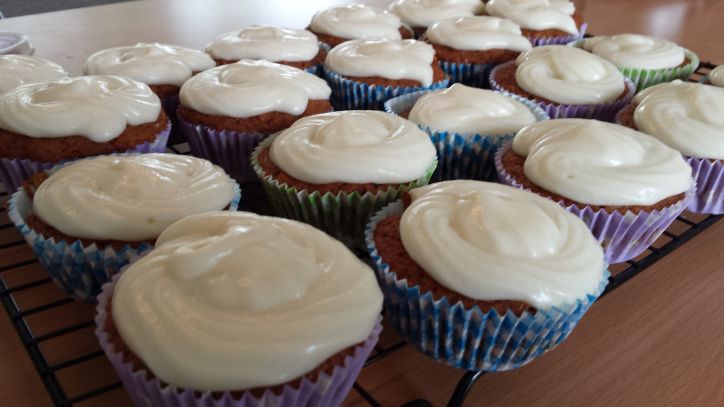 Do you like carrot cake? Have you ever baked carrot cake yourself before? If you ever give this recipe a try, let me know how they turned out!