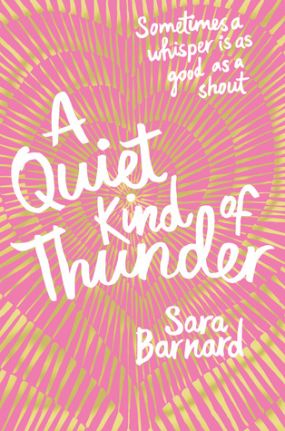 A Quiet Kind of Thunder
Young Adult, Contemporary, Fiction
Macmillan Children's Books
January 12th 2017
Paperback
320
Steffie doesn't talk, but she has so much to say. 
Rhys can't hear, but he can listen. 
Their love isn't a lightning strike, it's a rumbling roll of thunder. 
Steffie has been a selective mute for most of her life - she's been silent for so long that she feels completely invisible. But Rhys, the new boy at school, sees her. He's deaf, and her knowledge of basic sign language means that she's assigned to look after him. To Rhys, it doesn't matter that Steffie doesn't talk, and as they find ways to communicate, Steffie finds that she doest have a voice, and that's she's falling in love with the one person who makes her feel brave enough to use it.
I constantly kept hearing about this book on Twitter. I decided to pick it up and gosh it was so beautiful. Here is my review for A Quiet Kind of Thunder!
This book gave me so many wonderful feelings and emotions and GAH. It was perfection. A Quiet Kind of Thunder is a book at the core of overcoming anxiety and how society sees deaf people. The whole story was a journey to overcome different problems that teenagers can face. The writing style of Barnard was beautifully presented to the reader.
A Quiet Kind of Thunder made me giggle and cry on several occasions. In a way, from an observing point-of-view, I could find similarities with Steffie, the main protagonist. This is because I once had a friend exactly like her. She never talked during classes and how she was treated was the same as her.
Steffie was super cute oh gracious.
Speaking of characters, I loved her so much. Steffie was such a well-thought out character. She had all of these problems going with many thought-spirals and panic attacks. But to see her slowly come to terms with her anxiety and learn to deal with it, it's a wonderful thing to read. She knows that she wants to live a normal life and go to university, but she needs (r feels) like she needs to prove herself to her parents.
She is just a good, brave and despite everything that goes against her, loyal and a fearless girl. Really Steffie was a joy to read about.
Rhys was also a wee sweetheart.
Then there is Rhys. He is introduced to Steffie because she knows sign language. Being new to a school who doesn't understand what it is like to be deaf, it must have been difficult. But he found comfort in befriending Steffie. To see how their friendship grows, my heart grew at least 10 times. IT WAS SO UTTERLY SWEET I NEARLY SPEWED BUTTERFLIES.
I did appreciate the somewhat "fourth wall" element with her mentioning she didn't want a boy to be the reason she overcame her problems. In so many books, it is a common troupe thing that comes up. The character has a problem, they fall in love with another and BOOM, problems are gone magically! Nope, Steffie knew the deal. I appreciated that!
Overall, this was a brilliant coming-of-age novel about a mute girl and a deaf boy. It follows their happiness, their troubles and above all, their friendship.