Oh my god this book was a trip. It has been a challenge to read because I did not want it to end! That made me fall into a terrible reading slump which I am not proud of. Finally, I can say that I have now FINISHED A Conjuring of Light. Let me tell you now, this has been the most incredible journey. I cried, I laughed and I cursed. The amount of emotions that I went through with this amazing conclusion is staggering. The Shades of Magic trilogy had me gripped from start to finish. Here is my review on A Conjuring of Light by V.E. Schwab.
A Conjuring of Light by V.E. Schwab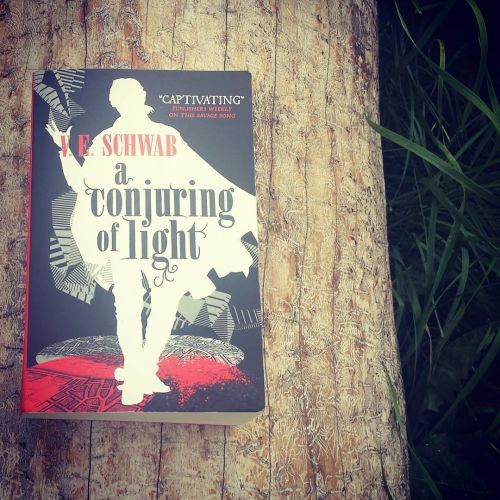 Darkness has come upon Red London, and the power of balance between the four world's hangs by a thread. Red London, once a city filled with magic that tinted everything red, was now covered by a black magic. The Maresh Empire was starting to crumble. Priests worked quickly to ensure the safety of everyone that resided in the palace, but could do nothing to help the people beyond its walls. Whispers changed people and they started to chant about a new king. A king who should never of been allowed passage to this world to begin with.
Kell Maresh, once the only living Antari must now find a way to rid the darkness from his home world. In doing so though, he starts to struggle between loyalties and must rely on his close companions. Lila Bard, who fought bravely (and recklessly) in the Essen Tach after discovering her hidden powers must now learn to control it. Once a thief wanting to escape and be free now needed to provide support to protect a foreign place.
Together with Alucard Emery, the captain of the Night Spire, have to travel against all the odds in order to obtain an item that could remove the darkness. But will they succeed? Will they make it in time before the shadow kings dark magic consumes everything they love?
My feelings are rattled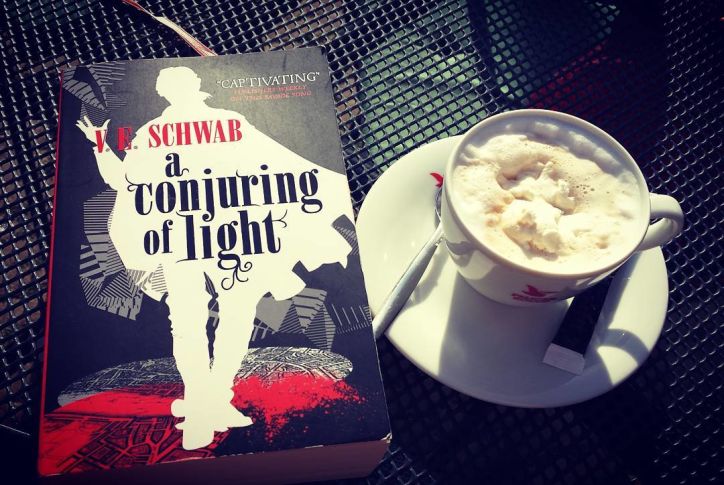 I can't even start to describe how bloody fantastic ACOL was. The entire series is simply incredible. Definitely now one of my favorite! The way that Schwab built up the worlds within these books makes you feel like they are real and alive. I had the exact same feelings when I read Harry Potter for the first time.
I love how Grey London is our real world, a place desolate of magic. Red London feels like someplace you would go if you wanted to feel alive and filled with an unknown energy, only to realize it is magic. My heart went out to White London, the dying world. Holland wanted so badly to bring his world back to life, and pretty much sacrificed everything to do so. Throughout ACOL, I felt so sorry for Holland and his past. How Schwab made you feel about Holland was just… GAH. Gut wrenching to be honest. And lastly how Black London was just dead. I loved how there was more information about this consumed world and how White London could potentially end up like it.
My heart belonged to Kell the entire way
Kell is such an inspirational and wonderful character. He is so loving and loyal to the people in his life. The love he has for his brother Rhy is also so insanely touching, it did made me shed a tear on many occasions. I know it is sometimes cliche to love the "main" character the most (although I feel that Kell and Lila held the main character roles throughout the series), I don't mind one bit! Schwab created such a fully fleshed out character in Kell. In this final installment, he became so much more brave and started to worry less about the trouble Lila could get in (even though that worry never truly disappeared).
Which may I add… OH MY GOD THEY ARE SO ADORABLE TOGETHER! I love how their relationship grew throughout the entire series.  I knew from the moment in A Darker Shade of Magic when we first met Lila Bard that she and Kell would have something special. And boy, was I correct. Lila with her feisty nature and bravado was the delicious cheese to Kell's hot headedness and need to do what's right attitudes crackers.
Speaking of relationships, the relationship between Rhy and Alucard was also so moving. Such a warm and loving thing but it was filled with such sadness and pain at times. I enjoyed every moment I got to read about Rhy, how he was so loyal to his kingdom but super stubborn, just like Kell. He grew up so much in ACOL because he had a kingdom to look out for, and it was wonderful to grow up alongside him. And Alucard with his twinkly smile and how connected he was to his crew. That was amazing to read. But Alucard, my dear Alucard's story made me weep. The trouble he had through in his life was so heartbreaking, it hurt.
Schwab weaves magic through her words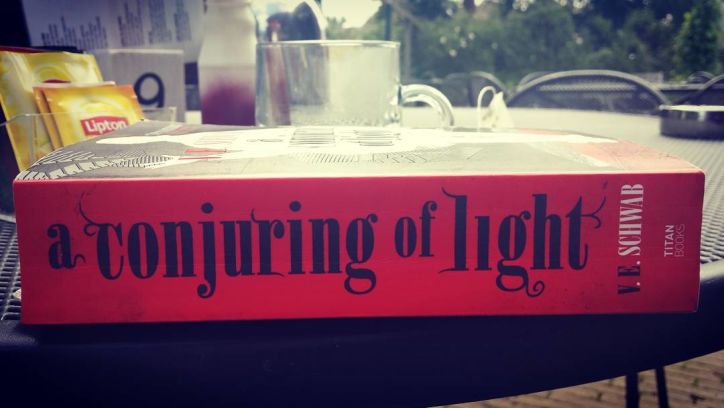 The way that Schwab pulls you into the lives of every character that is present in A Shades of Magic series is – simply put – breath taking. I cannot believe that someone has the ability to draw you in so deeply that it hurts so good. ACOL starts off straight after the events of A Gathering of Shadows so right from the get-go, it is fast paced, tense and SO EMOTIONAL. The book then continued on delivering incredible moments that brought every emotion you could think of! I felt like I grew more attached to every single character. Even Holland, who I hated with a burning passion before. How Schwab did that? Magic, it can be the only answer!
The day that I start to write something of my own, I can only hope and pray that I will be able to create as in-depth story as Schwab has so beautifully done. A world filled with emotion and attached that you do not want it to end. I really did not want to finish reading this book because I did not want The Shades of Magic series to be over. It is going to be stuck in my mind for a very long time, let me assure you that!
Now I don't normally beg, but seriously. If you want to start a series where you are teleported into a bubble that you don't want to leave, read these books. If you want to read a series that every single character is so in-depth, loving (or in some cases, loved to hate), buy these books. Love vast expansive worlds? Shades of Magic series! Similar vibes to Harry Potter? These books will do the trick.
*flails around wildly* EMOTIONS!!! So bloody good.
Flails out of 5
A Conjuring of Light by V.E. Schwab receives a big fat juicy 5 out of 5. An absolutely fantastic high paced and intense magical read that completely hooks you. The ending to the trilogy wraps up beautifully and it was everything I wished it could be.
Buy it. You will NOT regret the decision!!!!